by
posted on March 5, 2019
Support NRA American Hunter
DONATE
When you call predators in river bottoms, woodlots or just about anywhere outside the big country of the West, you don't expect to see them until they get close. You see them when you can. They are moving fast, often to get around you. Their body language is caution mixed with excited expectation. They want to get to the meal, but they don't want to run into something that can harm them. They want to get downwind to find out what's there.
If the setup is any good a coyote or fox will have to expose itself to get downwind, but a lot of setups just don't give you this option. Besides, predators by their very nature are wily. In these setups a mouse squeaker can help. It is a convincer when hunting in cover, especially on quiet days. A mouse squeaker is almost useless out on the windswept prairies, but it is a much-overlooked tool everywhere else.
HOW TO HOLD: Using these calls is as simple as squeezing a small ball. The trick is to take it out of your pocket and keep it in your left hand (for right-handed shooters). Hold the squeaker with your thumb and pointer finger while you hold your gun's fore-end with the rest of your hand.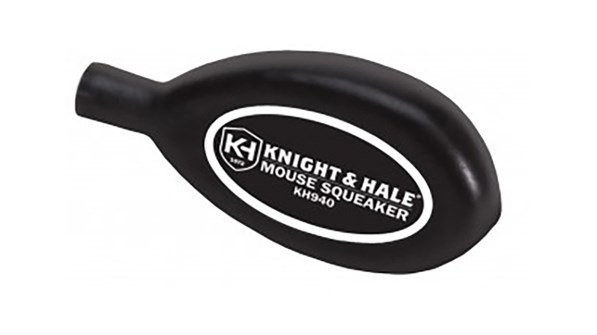 WHEN TO USE: When you see a patch of fur in the brush, squeeze the squeaker two or three times. If you even suspect a predator is close, use the squeaker. Often bobcats are the most reluctant to respond aggressively, but a mouse squeaker can convince them to approach or at least make them curious enough to present a shot.
WHY IT WORKS: A call, even a mouth call, that is suddenly loud and screaming can spook a timid fox or coyote that has snuck in close. When one of these predators hears the squeaker, however, it will often become immediately convinced and turn right toward you. Mice are perhaps the most common food source for coyotes and foxes. A squeak is a sound they are used to hearing from rodents but not likely from hunters.