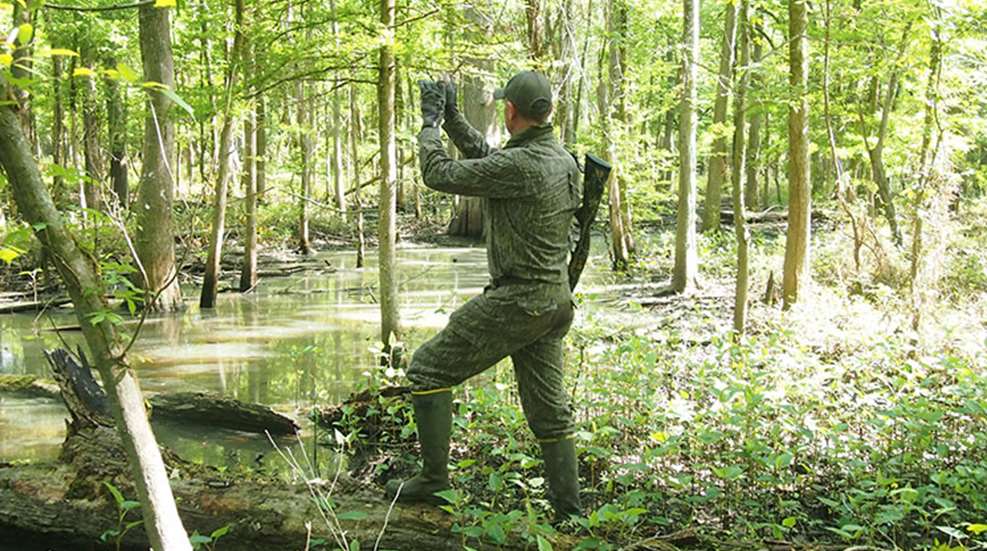 Our boat hurtled over the smooth, black water of the Atchafalaya River at 30 miles per hour, the skin on my cheeks, nose and forehead going numb from the cold. The temperature was in the mid-60s, but at that speed, an hour before dawn, it occurred to me I'd traveled all the way to south Louisiana from Wisconsin, no less, to freeze. I pulled my cap down the lowest it would go and tilted my head so the bill might block the wind and tucked my arms into my hunting vest.
I was in Saint Martin's parish to hunt swamp turkeys with my good friend Paul Courville. He'd been bugging me for two years to hunt turkeys with him, insisting it would be one of my best experiences ever. At the same time, he seemed to taunt me, suggesting a hunt along the bayous and in swamps might be too tough for a Yankee from the Frozen Tundra.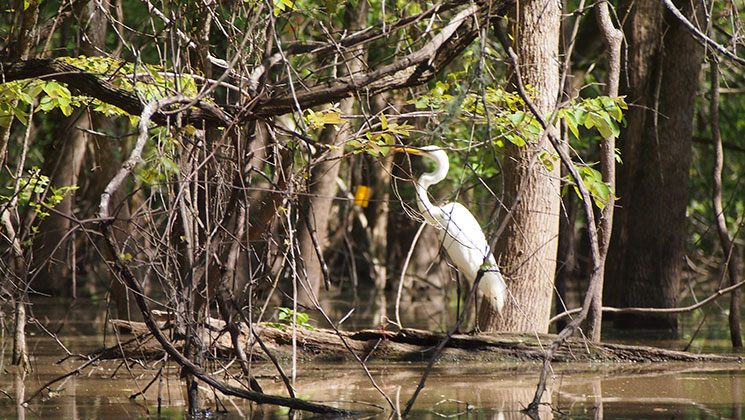 "We'll be runnin' and gunnin'," he told me. "No sittin' in a blind and playin' them damned video games. No, sir." Courville, by the way, is Cajun through and through, and has hunted and fished along the Atchafalaya River his whole life. And Cajuns, he made it clear more than once, were darned hardy and damned proud of it.
The third week in April, I traveled to Courville's home east of Lafayette. I brought no video games, but did tote along a new Remington 870 Predator DM shotgun. The 12-gauge is Big Green's newest upgrade of its workhorse 870 pump, this version with a detachable magazine (hence the "DM" in the name), a thumbhole stock and a Kryptek camouflage finish. 
The Atchafalaya River Basin is home to one of America's largest river and wetlands systems, stretching over eight Louisiana parishes. The Basin boasts the largest contiguous block of forested wetlands in the Lower Mississippi Valley. The Cajun people migrated to Louisiana in the 1760s from present-day Nova Scotia, and many came to settle along the Atchafalaya River. Today, this area is considered the center of Cajun culture. And, by the way, the people of the region pronounce it "Chaff-a-lie-uh." Only a crazed Yankee would try to add the "Atc" in the beginning, "Atc-ha-fa-latcha," or some such linguistic foolishness, which I was about ready to utter when I heard the correct pronunciation and acted like that was how I said it all along.
That first morning, Courville and I started what would be our pattern for the next three days. We rode his aluminum-hulled boat down river well before dawn, stopping at public lands (usually islands in the Atchafalaya stream), left the boat and headed inland. We'd walk anywhere from 10 to 25 minutes to get into position, usually near a stand of huge cypress or oaks that we hoped the turkeys were using as roosts.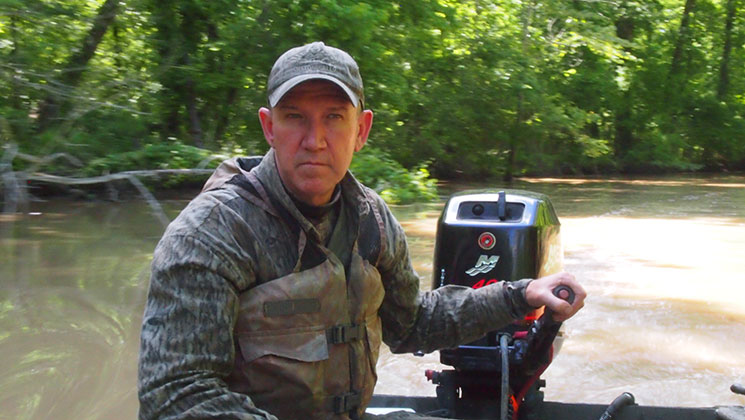 Sitting with my back against a tree in the dark, I discovered that the Louisiana's cypress forest is lovely, dark and deep—but certainly not quiet. The croaking of frogs and the chirping, squawking and fluttering of birds increased to a pulsing roar as the dark turned into pre-dawn grey. And right at dawn, Courville added to the volume with yelps, clucks and cutts, trying to coax an answer from a tom.
Those first two days, we did a lot of walking through ankle-deep mud while blackberry brambles tore at our legs and arms, me trying to keep up with my speedy hunting partner. We set up in a spot, Courville called, we waited, called some more and then moved on to the next likely area. We didn't hear a single turkey over those first couple days, though we saw plenty of bird sign, including tracks and piles of curly droppings under roost trees. 
"These birds are damned wary and the breeding time's almost over," Courville said at one stop, our backs to a cypress tree the diameter of a compact car. "We'll keep after 'em, though. One will turn up."
Though the morning boat rides were quite cool, by 10:00 a.m., the air was warm and extremely humid. The landscape we hunted was a jungle of cypress and oaks throwing deep shade, thickets of brambles and brush, lots of mud and many sloughs. The air had a wet, mossy smell, and with my back to a tree, I tried to imagine this land a couple hundred years ago when the first Europeans arrived.
Did it scare them? Excite them? What did they think of the many snakes and alligators, the mad chirping and singing of all the birds? It must have been a beautiful and amazing sight, this land, completely wild and dangerous, promising wealth, success and one hundred ways to die before lunch—the latter of which was brought home to me when I nearly stepped on a small water moccasin.
Mid-morning that last day, we had no luck for several hours and stopped at an old Cajun hunting camp. Courville had first visited the camp when he was a small child nearly five decades ago. He fished off the dock as a youngster and listened to the men tell deer-hunting stories—he wanted to hunt with the men, but his father wouldn't allow it until he was older and gun educated.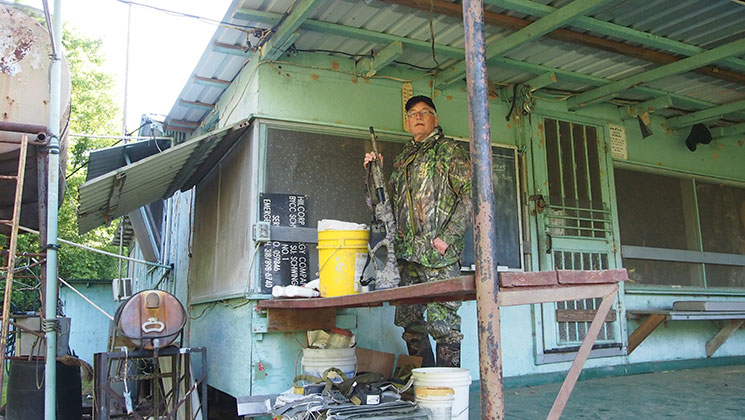 Inside the blue building of the hunting camp, the wood floors creaked. The kitchen held a jumble of cast iron cookery and chipped dishes, and the back room was lined with rows of bunk beds covered in musty blankets. I imagined the smell of bacon and eggs in the mornings and the pot of gumbo on a slow simmer all day long, the laughter and the beer bottle caps being pried off and the playing cards being slapped down on the long tables.
"A lot of young folk are not really interested in these old places today," Courville said as we toured the camp, a certain sadness in his voice. "Not too exciting, I guess. But this place means the world to me."
We boarded the boat and Courville took us to one last spot, an 800-acre slice of public land situated between two private holdings. Once there, we marched to the rear of property where Courville had some past turkey hunting success. We walked, stopped and called, and walked some more. An hour later, the hunt seemed over. Courville said we'd take a break and head back to the boat. He made one more call as I looked for a dry spot to sit when we heard a muffled gobble off into the cypress jungle.
"Sit right there," Courville hissed, pointing to a large tree. He made a couple of loud yelps, and they were answered not ten seconds later, the gobbles already much closer.
Courville crouched down alongside the tree and told me to get ready. 
I scanned the thick brush and the many tree trunks, careful to move my eyes and not my head, something Courville kept on me about. Silence for a half minute, and then a loud gobble came from behind the trees ahead and to my right. The head of an Eastern tom popped out from behind some blackberry brambles, then ducked back in. Courville clucked.
The tom cut out into the relative open of the mud, grasses and rotting, downed tree limbs, moving at a diagonal ahead of me from right to left. I froze, the bird not 40 yards away, and coming closer and closer as he slid to my left.
At about 25 yards, the tom moved behind a cypress; I raised the Remington 870 Predator DM to my shoulder. No sight of the bird, and me breathing hard, the end of the shotgun's barrel fairly bouncing. Then that crusted white and red head appeared from behind the tree trunk. The tom took several cautious steps, head held high, searching for the elusive hen.
I fired once, front post and Ghost Ring rear sight focused on the tom's middle neck. A dozen #6 pellets from the 3-inch Remington Nitro Turkey load tore out of the barrel and the bird cartwheeled over into the mud, wings flapping crazily.
I leaned back into the tree, suddenly very tired. Nearly three days of walking and stumbling through the swamps, enough sweat shed to soak my clothing each day and we didn't even hear a bird—and finally, in just a two to three-minute span from gobble to shot and I had a tom on the ground.
"You didn't think it would happen, did you?" Courville said. "Last hunt of the morning and I'm on a plane home tomorrow," I said. "I had my doubts."
"Never doubt us Cajuns." Courville grinned. "We been here over 200 years now, and we don't give up!"

Remington's New 870 DM Predator
The Remington 870 DM Predator is a magazine fed 12-gauge that's compact, and a good choice for hunting in thicker, brushy environments. The DM Predator is available with three- and six-round magazines, and ships with an X-Full turkey hunting choke tube and a "Boar Blaster" tube for heavier hog and coyote buckshot loads, both made by TruLock Chokes.
The DM Predator handles 2 ¾- and 3-inch shells, and the 18.5-inch barrel patterns nicely. I prepped for my hunt with 3-inch Remington Nitro Turkey loads firing #6 shot and was able to place between 15 to 25 pellets into a turkey target neck and head at 25 yards.
The DM Predator's over-molded ShurShot Thumbhole stock provides a solid grip. The shotgun employs an XS Sights Tactical Rail with an integral Ghost Ring rear sight, along with a ramped, steel front sight. The shotgun is finished in the Kryptek Highlander camo pattern, and stock and forend are synthetic.
A fine choice for turkey hunting, the DM Predator can reach out 50 yards or better for buckshot hunting of hogs and coyotes with the Boar Blaster choke. The pump-action works smoothly and positively. As it is a pump, and a lighter-weight one (7.5 pounds unloaded), the recoil is stout, though not objectionable. It has an MSRP of $799.