by
posted on June 25, 2018
Support NRA American Hunter
DONATE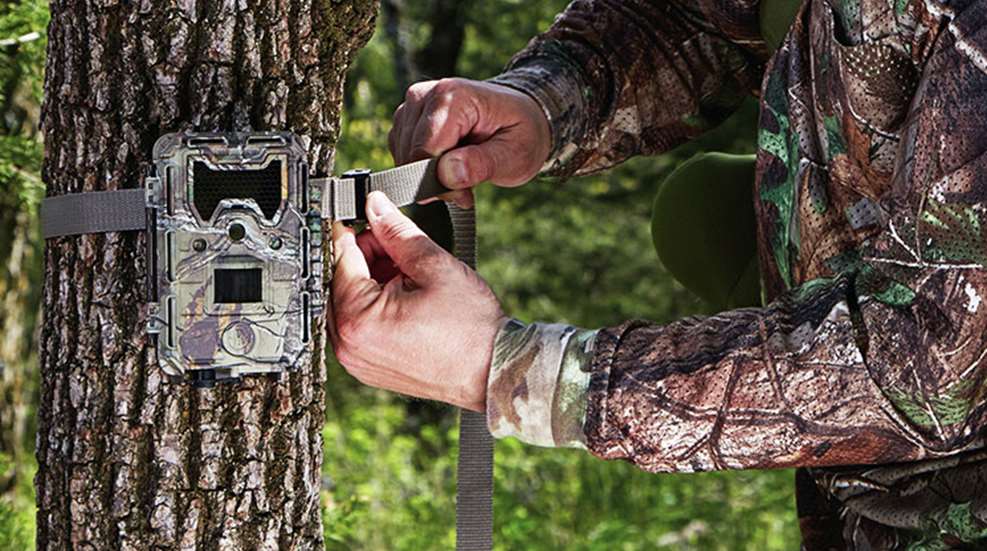 "The stupidest thing I ever did before deer season," Mark Drury, the well-known game-call maker, told me, "was to take a writer to my five best stands just before bow season. He was doing a piece for a major magazine and his angle was my killer stands. I knew it would be great exposure for my calls. I didn't realize how much it would impact my stands—and we were careful with our scent. Messed up my entire season."
Drury related this incident to how he feels about trail cameras: In many cases they ruin good spots before deer season. Some outfitters say even more worrisome things about running cameras.
"Bucks relocate in early fall," said Keaton Kelso, owner of K&K Outfitters. "Sure, I can get great velvet shots of them, but many of those bucks will be on another farm for the rut and I'll get a whole different bunch on my properties."
Still, most outfitters, guides and experienced hunters will end their words of camera caution with a series of buts: " … but they are a great way to get youth involved in deer season … but they do get clients jazzed … but in the right places, at the right times they can give valuable information." Here are the steps these hunters take—and the things they avoid—to get the most from their trail cameras without disturbing the local bucks.
DO: Place your cameras along field edges where trails come in, over active scrapes that bucks likely made at night or over bait (where legal). These photos will give you an inventory of the bucks on your property, at least most of them.
DON'T: Crawl into a tight spot you plan to hunt to hang or check a camera. "I put out a few trail cams, but only in places I can drive right up to in my Gator," said Ryan Bland, owner of Non-Typical Outfitters in Illinois. "I actually don't have photos of most of the bucks my hunters kill. This is because we're very careful about impacting stand locations."
DO: Put a camera along a trail you pass as you sneak low-impact into a stand. Grab it on the way out. You're going through there anyway. This might give you valuable information, especially when bucks are on a pattern in the pre-rut.
DON'T: Go into that security cover. "Carefully place cameras on trails leading into the cover," said Brian Murphy, CEO of the Quality Deer Management Association. "When you find a good buck, triangulate your cameras until you've identified his pattern."
DO: Use cameras to find a buck's core area. A buck's core area is the portion of its range where it spends most of its time during daylight. "Studies show this might be 59 acres in Louisiana or 224 acres in South Texas," said Murphy. "To kill a certain buck you have to start by pinpointing its core area. Cameras can help you do this if you're careful with them."
DON'T: Go right in after a good buck just because you have photos of him. If you're hunting the bow season when the pressure isn't too heavy, play it smart and start on the edges of your property—well away from bedding cover. As the rut begins, move in, but find good entry and exit routes as you gather info on the buck you're after.
DO: Pay attention to the time stamp. Trail cameras can help you determine which bucks are moving in daylight. Some older bucks just don't leave heavy cover until it's completely dark. There are strategies you can use to kill these deer, but if you find a good buck that is getting up before dark, hunting him is a better use of your time.
DON'T: Wait for the rut to hunt a mature buck that's been caught on your cameras. "The trouble with the places where most people hunt deer," said Kelso, "is hunters might be dealing with a buck-to-doe ratio that's way out of balance. If you're in one of those places and you're getting photos of a big buck, don't wait for the rut. That buck will likely be tied down breeding doe after doe then. Take a chance on him when he's on a pattern in the pre-rut."