by
posted on September 12, 2016
Support NRA American Hunter
DONATE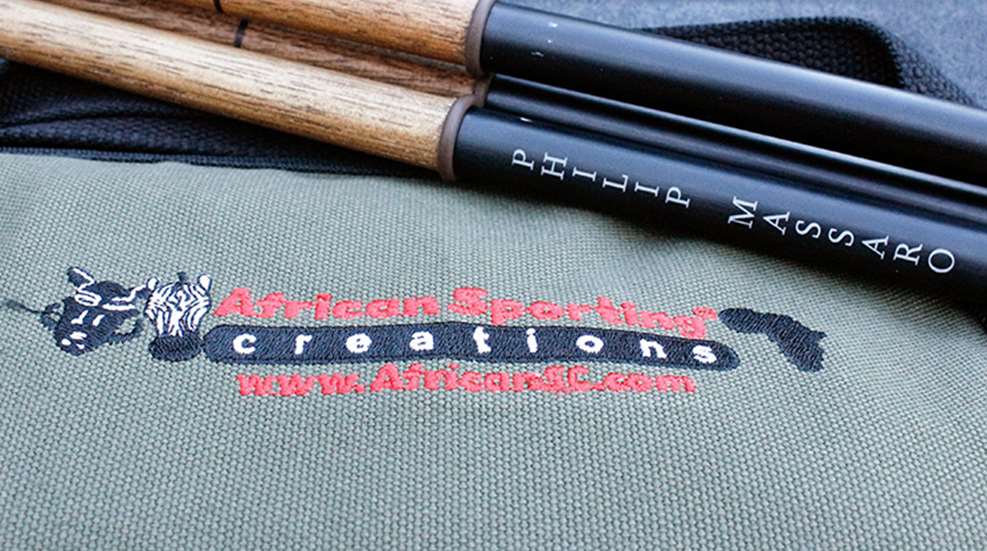 Well, you've done it; you've taken the plunge and booked your African safari. Your passport is secured, the flights are booked and your rifle is sighted in and ready to rock. If it is your first, I envy you—there is nothing like a man on his first safari—if it's a repeat journey, perhaps you'll still find some helpful tips in this piece; as the preparation for a safari is very important. There are some points that may seem obvious, and others that may seem subtle, but will pay off in the game fields. I'm going to assume you've spent the necessary bench time behind the trigger of your rifle, and that the cartridge/bullet combination is adequate for your hunt—so let's hit on some other points, as there are volumes already written on that topic.
Regarding your rifle, here are some ideas that may make or break your success. First, you must be able to load and unload your rifle quickly and carefully. There are times—especially when hunting dangerous game like Cape buffalo—when you may need to reload your rifle without taking your eyes off of the game animal. Carrying the cartridges in a sensible manner—you don't necessarily need a culling belt, but a handy cartridge holder is important—is paramount; you definitely don't want to be fumbling through your pockets or your pack in a moment of excitement. Most of the gun-stock style ammunition holders are frowned upon, because of the risk of losing your ammunition only to have it be found by poachers, is a concern among the Professional Hunters.
Second, get a good set of shooting sticks and learn how to use them. Invariably, you'll be shooting off a set of sticks when hunting the Dark Continent, and if they are foreign to you it will diminish your hunting enjoyment. I have two sets of sticks that I practice with: the Primos TriggerStick tripod and the African Sporting Creations shooting sticks—which are also height adjustable. The Primos set is constructed of lightweight aluminum, and are easily adjusted for height by squeezing the trigger on the side of the handle, just below the rubberized yoke, which holds the rifle's fore end. The ASC sticks are crafted from Brazilian cherry wood, and each of the three legs screws together in three sections, so that you could use them in a sitting or standing position. The top of the ASC sticks is covered in a durable leather, so as to protect the finish of the rifle, as well as to give you a good grip with your non-trigger hand.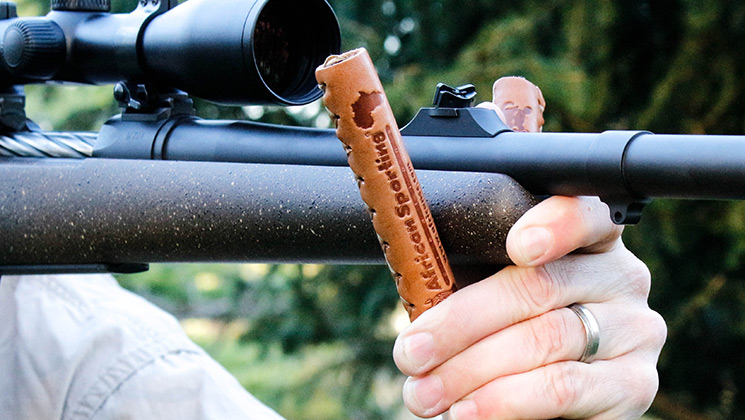 If you watch any of the African hunting shows, you may see many different techniques regarding the use of the sticks. I can only tell you what works for me—I lay the fore end of the rifle, about two inches from the end, into the 'V' made by the sticks, I hold the fore end of the stock with my index finger and thumb, and grab the sticks with my remaining three fingers to steady them. This allows me to make any adjustments, should the animal move. I do a whole bunch of practicing off of my sticks, rather than the shooting bench, so as to best replicate African hunting situations. You'll be surprised how accurately you can shoot from sticks; I've made shots out past 300 yards, confidently.
If you've purchased a new rifle for your safari, you should spend some time carrying the gun. I'm fortunate enough to have some hiking trails on private land, where I can carry a rifle without scaring the heck out of anybody. It sounds silly, but a 10 or 11-pound dangerous game rifle carries a whole lot differently than does a deer rifle, and can wear you down on the long treks usually associated with buffalo, elephant, eland and the like. Do some hiking with your chosen safari gun, and you won't think twice about in Africa.
Snap caps can be a God-send as well; the more times you can practice with your safari rifle, the better off you'll be. Without having to head to the range, you can easily become much more familiar with the safety mechanism, trigger pull, and the action of your rifle, without the worries associated with dry-firing. A-Zoom has long made a good aluminum snap-cap, with a rubberized primer to soften the blow of the firing pin. They are also an excellent means of learning how to work the bolt of your rifle without taking the butt off of your shoulder.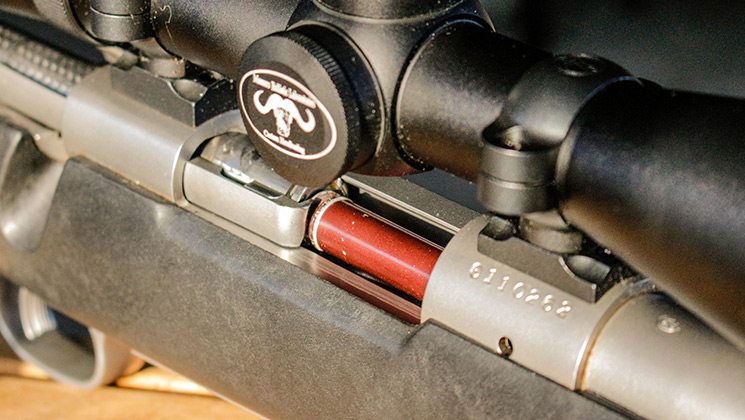 Your chosen footwear for Africa need not be a difficult choice—unlike North American hunts which may require heavy duty, cold weather footwear, in Africa you can get away with a nice, light hiking boot, or even sneakers; I've done both. However, it is very important that your footwear becomes an extension of your feet. Personally, I'm a huge fan of the Courteney boots from Zimbabwe; they are rugged, quiet, and most of all comfortable. So much so, that I wear mine daily. I have two pairs, one pair of the Safari model, and a pair of the Patrols, which I wear while at work as a Land Surveyor. In six years - with hundreds of miles on them - I can't kill them, and they are among the quietest hunting boots I've ever owned. Courteney boots are available here in the States, also from African Sporting Creations. Whatever your choice is for footwear, please heed this piece of advice: put some good miles on them before boarding the plane for Africa. You want your footwear to be well broken-in before your trip begins; blisters can ruin a hunt in a hurry. I like wool socks, even in the heat, as they help to cushion my feet during the long miles. Before a safari, the wife and I take long walks in the footwear and socks we'll be wearing to Africa, and I've never had a problem.
One last piece of advice: the location of the vital organs of many of the African animals differs from our own North American animals. Pick up a reference book—Kevin Robertson's The Perfect Shot is a good one—and study the anatomy of your intended quarry. Your Professional Hunter will definitely tell you where to place the shot, but it's nice to have a working knowledge beforehand.