by
posted on September 27, 2011
Support NRA American Hunter
DONATE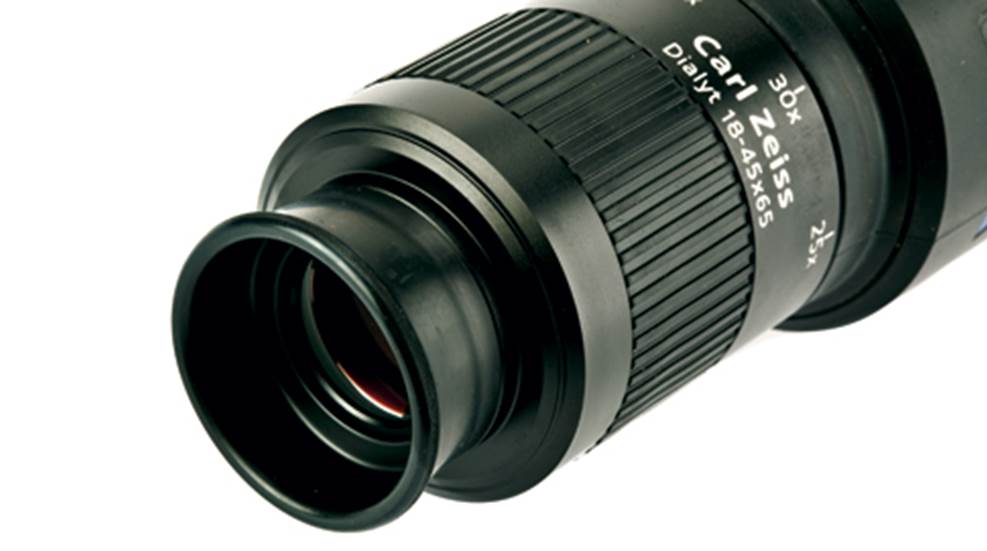 It's obvious that Zeiss looked to its rich past for the inspiration for this year's must-see introduction, the Dialyt spotting scope, reprising a model name in use since 1905. Dressed in stout, black-rubber armoring, the new 18x-45x-65mm spotting scope is cut from the same cloth as the company's all-time-favorite Classic binocular, glasses that set the standard for optical clarity and durable field performance from the 1960s through the 1990s. Perhaps best of all is throwback pricing at around $1,300, what you might have expected to pay for a Zeiss spotter two decades ago.
For that price don't expect quite the optical excellence delivered by the company's flagship DiaScope and other $2,000-plus marvels that utilize breakthrough fluoride glass to deliver images nearly free from distortion produced by chromatic aberration. And at 42.5 ounces, it outweighs models with thinner FL/ED/HD lenses by 3 to 5 ounces. Instead of catering to technology-obsessed hunters and professional guides who will pay just about any price for the latest performance tweaks, this retro piece is aimed at pragmatists who value old-school reliability.
As in the past, the tough-as-elephant-hide rubber exterior will shrug off hard knocks, and short of hacking at it with a sharp blade, the stuff appears to be impenetrable. And that's just one way the optical designers have toughened this product. It starts with an aluminum monobloc construction that incorporates an integral eyepiece rather than one that screws or cams into the scope body. That eliminates one potential weakness. The focus mechanism is the front lens—simply twist in or out until the subject attains maximum sharpness—thereby eliminating the customary linkage rods and gears used to retract an interior lens. Sturdy rubber caps completely seal off the exterior lenses from dirt or moisture. The end product is so robust I would not have the least worry about employing it to drive tent pegs or crack a coconut if need be.
Even so, the folks at Carl Zeiss are probably glad there were no coconut palms where I took our loaner unit hunting on the Alaska coast. There was plenty of foul weather, salt spray, rough treatment climbing in and out of boats, and a bunch of brown bears, though we had to glass hard to find them. Once guide Craig Hill got a peek through the Dialyt, he opted to leave his own spotter back at camp. Several times he sized up bears, including a few at high elevation that were borderline shooters. That information allowed us to sit back and be patient until the right bear finally emerged where we could get to him.
Craig and I shared the opinion that for just over half the cost of the prestige spotters, the Dialyt offers a pretty fair approximation of their optical performance, and that in hard-nosed country like Alaska, the sheer ruggedness would make up for a little extra weight. Besides, if you switched from the bulky, cuplike lens covers to snap-in camera-lens caps you could shave off 3 or more ounces right there.
The one downside we both noted was a tight field of view, which, at 1,000 yards, ranges from 120 to 69 feet as magnification increases. At 45X, that is 12 to 15 percent narrower than the fields typically delivered by quality spotters. Normally that won't be a factor, but it could complicate getting on game quickly or keeping tabs on multiple animals. Sighting notches placed at 90-degree intervals around the rubber shell's front-lens rim are easy to use for a rough alignment, but aren't as foolproof as other setups.
To rate optical performance I staged a Zeiss vs. Zeiss matchup, pitting the Dialyt against a comparably sized top-end Diascope. In full sun there was little difference in brightness and clarity, and only when viewing deer out past 1,000 yards did I discern the premium model's advantage in defining the velvet rack of a small whitetail buck. With the Dialyt I had no trouble seeing that it was a buck; it was just a bit tougher to count the points on those naturally fuzzy antlers. Just before dusk I watched a red fox hunting his dinner at even longer range, and through both spotters his coat flashed like a crimson flag. The Diascope did make him stand out more distinctly from the green background, and there was less lens flare from the pricier scope as I watched him drift toward the setting sun. Certainly there were disparities between the two, but they were not so great as the price differential might suggest.
Furthermore, the Dialyt's long, sleek profile may prove advantageous in packing, and Zeiss says this shape, along with the front-lens focusing, better suit it to handheld use than is the case with chunkier, offset models. I don't know how much of that will actually take place—and of course it sports a tripod shoe—but surely I'm not the only hunter who has desperately tried shortcutting the tripod as game moved off.
With the Dialyt, Zeiss didn't just settle on knocking off a cheaper version of a high-end product. Instead the company created an altogether new model meant to excel in a different way. What it yields in optical brilliance and weight is countered by being the most robustly built spotting scope I've ever seen. Time will tell, but I expect this new entry will outlast even the most abusive original owners. For hunters who have the energy and the will to tramp the roughest country in the toughest conditions, and who have enough budget to buy quality but must make every dollar count, the Zeiss Dialyt spotter is poised to become a trusted partner.