by
posted on January 17, 2023
Support NRA American Hunter
DONATE
For 2023, Taurus introduces its Raging Hunter .460 S&W Magnum with a 10.5 inch barrel. The new .460 Magnum revolver features a proprietary compensator that drastically tames the recoil of the powerful .460 Magnum round.Additionally, the new 10.5-inch Raging Hunter features a first-in-its-class bottom rail for attaching stabilizing devices like bipods or shooting sticks.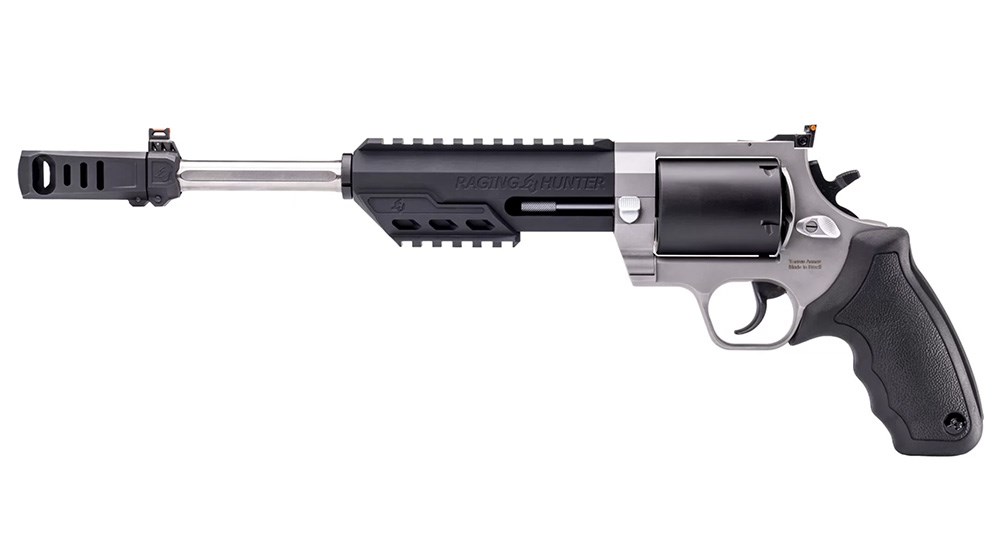 Like all other .460 Magnum handguns, the Taurus Raging 460 Magnum, with its 10.5-inch barrel and compensator, can safely chamber and fire the less powerful .454 Casull and .45 Colt rounds. According to Taurus, with the compensator, even the most powerful .45 Colt rounds feel like a popgun.
Raging Hunter 10.5-inch .460 S&W Magnum features:
• Proprietary, first of its kind muzzle brake reduces muzzle flip and felt recoil 25 percent more than conventional barrel ports.
• Fiber-optic front and rear sights are perfect for rapid target acquisition.
• Taurus' double lock system keeps the cylinder secure when firing the heaviest of magnums.
• 10.5-inch Raging Hunter uses a bottom rail to attach bipods or other shooting aids
• Muzzle brake is locked in place with a dual-retention system prevention rotation under heavy recoil.
• Top Picatinny rail provides an excellent optic mounting platform.
This new Raging Hunter weighs in at 4.4 lbs. and has an MRSP of $1,269.99. For more information, visit taurususa.com.