Support NRA American Hunter
DONATE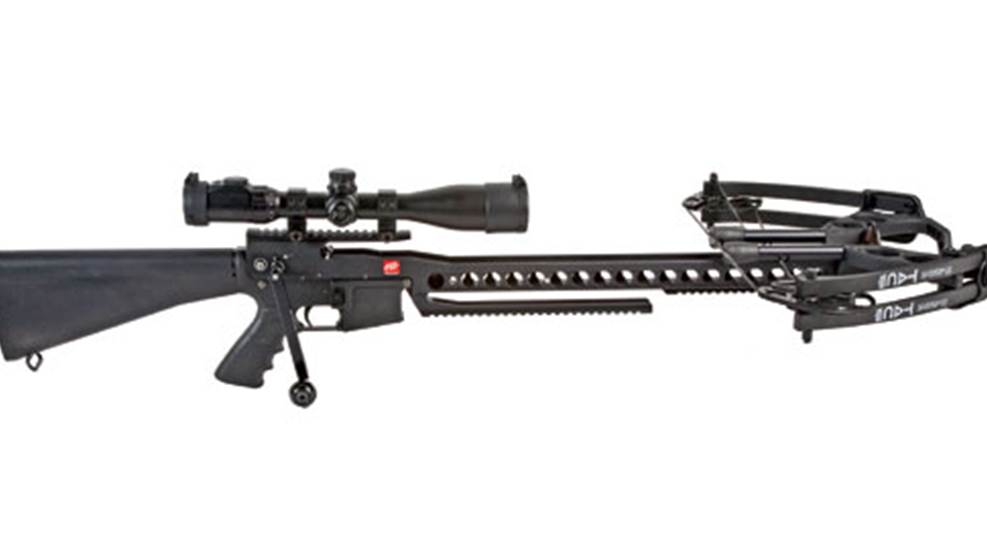 Most hunters and AR-15 owners I've surveyed around the office shook their heads and mused "what's next?" under their breaths when they first saw Precision Shooting Equipment's rendition of a new category of arms I jokingly call "assault bows." Then they recognize what it is and what it can do, and they want one.
This AR-15 accessory-called the "Tactical Assault Crossbow 15"-will morph your standard AR into a viable crossbow for hunting big game. Although it is only capable of shooting one arrow at a time, that fact won't likely prevent Dianne Feinstein from fainting as if she'd been mule kicked by a machine gun-schlepping minotaur when she gets wind of this "deadly assault bow!"
Since the early 70s PSE has been a leader and innovator of archery technology, so developing the actual crossbow portion of the product wasn't the tricky part. The trick was designing a draw-and-release mechanism that fit the confines of a standard AR-15 receiver and that functioned with its trigger group as a unit. The resulting apparatus, the TAC-15, is a showcase of PSE's mechanical engineering capabilities. It's a simple, safe, effective and ingenious invention.
The machined aluminum TAC-15 upper attaches to any standard AR-15-style lower receiver exactly like you'd attach an upper barrel assembly; it snaps perfectly into position using the AR's two existing pins. Just pin the front lug, swing the buttstock up to contact the upper receiver, then snap the rear pin in with your fingers. All the fire controls (safety and trigger) function as a normal AR-15.
To pull back the string and cock it, you release its sled-like Anti-Dry Fire mechanism via a ratchet-locking pin on the left side of the upper. Pull the ADF until its cord reaches the string, then attach it to the string loop. Then you attach the supplied crank lever to the crankshaft and winch the string back until it locks into battery. Place the arrow on the string, flip the safety to "fire," aim and pull the trigger. Its trigger pull will be as good or as bad as the AR-15 lower that you choose, as the TAC 15 does not affect it in any way. Compared to most crossbow triggers that bear the string's load, even a dismal AR-15 trigger is very good. The TAC 15 upper will work with any AR-15 compatible lower unit and will not harm it in any way.
PSE decided to go with a crank system because it was not protected by existing crossbow patents and it mitigates the human strength needed to pull back the 170-pound bow so that anyone can cock it from virtually any position.
Notable in the crossbow's design is PSE's short X-tech limbs and the bow's departure from a rail channel to guide the bolt; instead, it utilizes a Whisker Biscuit rest borrowed from modern compound bows to capture and guide the arrow as it is drawn and released. (Because the TAC 15's projectile has a nock and it uses an arrow rest, it is technically an arrow, not a bolt. One of the unforeseen challenges for PSE was to find an arrow with enough spine strength to handle the bow's energy. They also had to develop a special nock, so don't use your bow's arrows with the TAC 15!)
Its fore-grip is a free-floating Picatinny rail for mounting all the lights, vertical grips and gizmos that have forged a niche industry of aftermarket accessories.
Concerning performance, my test results are all positive. The TAC 15 is incredibly easy to install and shoot, it is very accurate and, given its speed and the size of the arrow, it's the fastest and most powerful crossbow we tested. Choose a scope built for the terrorizing reverse recoil of an air gun and don't be surprised if you can hit a paper plate consistently at 80 yards. My groups averaged 2.3 inches at 40 yards. While all crossbows are much louder than regular bows, the TAC 15 was the second-quietest we tested.
My only criticism is that it's long and unwieldy (although its length gives it a 17¼-inch powerstroke). Its length can be lessened by mating it with a collapsible-stocked lower. Also, be aware that you must own an AR-15 lower in addition to the TAC 15 unit; inasmuch, this crossbow isn't cheap.
If you're in the market for a crossbow and you already own an AR-15 (doesn't everyone?) simply convert it to a bona-fide big-buck assault bow. Or, as if you didn't have enough reasons already, perhaps the TAC 15 is an excuse to buy an AR. Either way, Feinstein will faint.
Draw Weight: 170 lbs.
Advertised Speed: 402-417 fps (425-gr. arrow)
Tested Speed: 371.4 fps (490-gr. arrow)
Advertised Kinetic Energy: 152-160 ft.-lbs. (425-gr. arrow)
Axle-to-Axle Length (uncocked): 16.5"
Power stroke: 17.25"
Overall Length (w/ full-length stock): 43.5"
Tested Trigger Pull Weight: N/A
Weight: (upper only): 6 lbs, 5 ozs.; (upper and lower) 8 lbs., 4 ozs.
Accessories: crank handle, 5 arrows,
MSRP: $1,299 (TAC 15 upper only)