by
posted on July 19, 2013
Support NRA American Hunter
DONATE
Many folks are happy walking into a big box store, buying a rifle and going hunting. I am not one of these people. In fact, I don't think there's a single big-game rifle in my safe that hasn't been altered or "customized" in some way. For the sickest among us or, as Jack O'Connor called us, "the nuttiest of gun nuts," the lure of a truly custom rifle is as much a part of hunting as the hunts themselves. For the newbie, the process of planning and ordering a custom rifle can be overwhelming. Lets try to bring some common sense into the process, maximize the enjoyment and minimize the pain of disappointment.
Form Follows Function
The first question that you must ask yourself is, "what will this rifle be used for?" The rifle's intended purpose should drive all other decisions that you'll make along the way, even before aesthetics. This question will also help you choose your gunmaker, as each artisan has their specialties. Is this to be a rifle for big game? A specialty lightweight rig for sheep hunting? A dangerous game rifle for Africa's big five? No one gunmaker is the best choice for all three, so it's better to start with one who specializes the purpose you desire.
Collaborative Effort?
It is very common to entrust different segments of a project to different specialists—outside of Europe; it's rare that you'll find a top-quality metalsmith, stockmaker, finisher and engraver under the same roof. If more than one shop is involved, be sure to have a primary individual coordinate the entire project. You wouldn't build a home by hiring all of the subcontractors yourself; make sure the buck stops with someone.
Custom Guns Don't Come Cheap
Like it or not, truly custom rifles require lots of manual labor and skilled gunmakers don't work for minimum wage. A one-off rifle is going to hurt your bank account so it's crucial to set an affordable budget from the outset. You can spread the pain over several years by accumulating actions, barrels, stock blanks, and other parts along the way, but setting a budget at the outset is still vitally important lest things get away from you. If you choose to acquire the components before starting the project, be sure to consult with the gunmaker that will be performing the work to ensure that you're buying the correct parts for the job.
Choosing the Right Action
Lets assume that we're talking about bolt-action rifles for big game hunting. You have a variety of choices when it comes to the action, but that choice should be driven once again by function. If reliability is your primary concern (such as with a dangerous game rifle), a Mauser-type action such as a true Mauser, a Winchester Model 70, Dakota 76 or CZ should fit your needs. Most true "classic" custom hunting rifles start with some vintage variation of the Mauser 98 action or one of the modern clones built by companies like Granite Mountain Arms and Prechtl.
If supreme accuracy is your goal, or you want to keep things on a more modest budget, actions on the Remington 700 pattern are the way to go. A 700 can be trued and "blueprinted" by the gunmaker or you can start with a custom action like a Surgeon or Stiller, which are produced with excellent tolerances from the outset.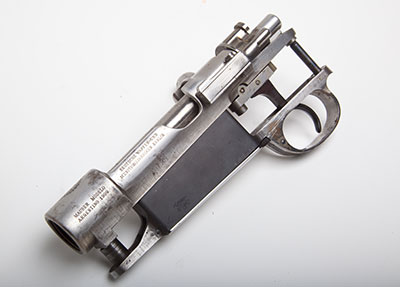 Military Mausers like this Argentine are the basis for many classic custom rifles.
Wood or Synthetic
Do you want a functional work of art or pure function? Don't let yourself be fooled, a properly built walnut stock can be incredibly durable and useful in the field but wood stocks aren't for everyone or every hunt. I've used synthetics from both McMillan and Lone Wolf with very positive results; they can be ordered in a variety of colors and configurations. Try as many models in person as you can to determine which design fits you best. There are other quality synthetics on the market; I just can't speak to them firsthand.
When it comes to wood stocks, blank selection is key. Unless you know what you're looking for when it comes to grain flow and layout, I would recommending including your stockmaker in the process of selecting your blank. With email, it's easy to send photos of various blanks from firms like Luxus Walnut for your gunmaker to inspect. A good stockmaker will know what to look for and can help you choose a blank within your price range that will stand up to recoil and use afield.
Photos like the stunning blank from Luxus can help you choose a great stock blank without leaving your home. 
Style
Form may follow function, but it's still an important part of the process of designing a custom rifle. It's crucial that you choose a gunmaker that shares your eye for what a rifle should look like. If you want a rifle with a synthetic stock or one made in the 1960s Weatherby-style with white spacers and a big Monte Carlo cheekpiece, don't choose a gunmaker who specializes in the classic English style. Likewise if your taste is more traditional, don't ask a guy who builds "tactical" rifles to build you a Rigby clone.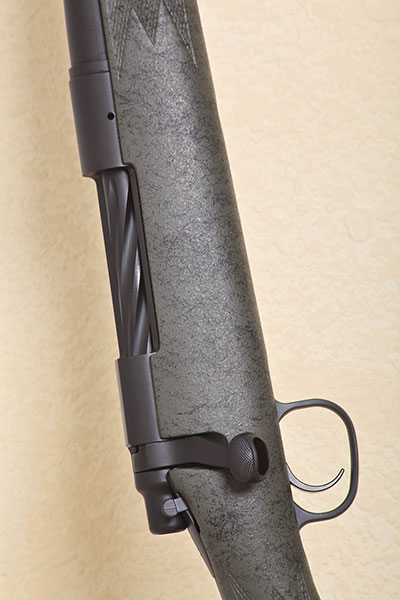 If this is your idea of a custom rifle, find a builder who specializes in lightweight synthetics.
The Devil's in the Details
The difference between a generic hunting rifle and one built to your taste is in the "little things." Trigger pull weight, safety type, barrel length and twist, bottom metal style, checkering pattern, iron sights (or lack thereof), scope mount, etc. should all be given serious thought. Once again, this comes down to the intended purpose of the rifle. A dangerous game rifle should have a robust set of express style or ghost ring iron sights where a mountain rifle may wear none at all. How about a trap grip that holds an ivory "night sight" bead? Anything's possible if you're willing to pay for it.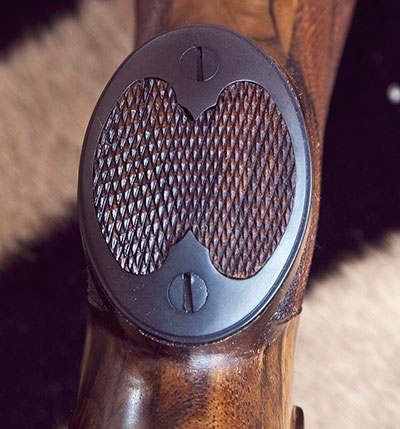 Details like this skeleton grip cap are what make a custom rifle truly unique.
Get Off on the Right Foot
If you're sensing a theme here, you're right- choosing the right gunmaker for your project and budget, and involving them in the process is a key to success. Look at and handle as many custom rifles by different makers as you can and find one that talks to you- then find out who made it. If you can, visit a gathering of gunmakers such as the annual American Custom Gunmakers Guild meeting in Dallas and see which maker's style (and personality) suits you best. When you make your choice, be prepared to write a check and wait patiently. Get everything you want in writing so there's no question as to who said what when the rifle is done and something isn't right.
All in all, a custom rifle should feed flawlessly, be capable of excellent accuracy, balance well, and look good- anything less and you've thrown away some hard-earned cash. Proper planning, selection of quality components, and commissioning the right gunmaker (or makers) will help ensure a happy ending.