by
posted on October 5, 2023
Support NRA American Hunter
DONATE
E-bikes have been gaining steam (or maybe charge ... ) among the hunting community in recent years. With the advent of ever-improving battery technologies, more efficient motors and lighter alloys, e-bikes have gone from a niche product to an increasingly common tool for backcountry hunters looking to go deeper, property managers looking to quietly move supplies, and offseason scouters looking to put down more miles in their search for game. While quite a few manufacturers have exploded out of this pedal-powered revolution, QuietKat has become almost ubiquitous, having gotten a jump on things some 11-years ago with an eye specifically toward serving hunters and anglers. As such, we thought we'd take QuietKat's Apex Pro, the flagship of their utility line, and see how it performs over a season of scouting, managing and hunting.
Laws, Legalities and Limitations
As is the case with any new technology, its important to figure out what you can and cannot do with a piece of kit before taking it afield, and potentially running afoul of the law. Obviously, non-motorized wilderness areas are self explanatory, but how about the rest of the backcountry? Where can you really take an e-bike? The answer, it turns out, is as complicated as you'd imagine it to be in a 50-state system. Luckily, QuietKat has anticipated this problem, and has some helpful resources right on its website to get users started.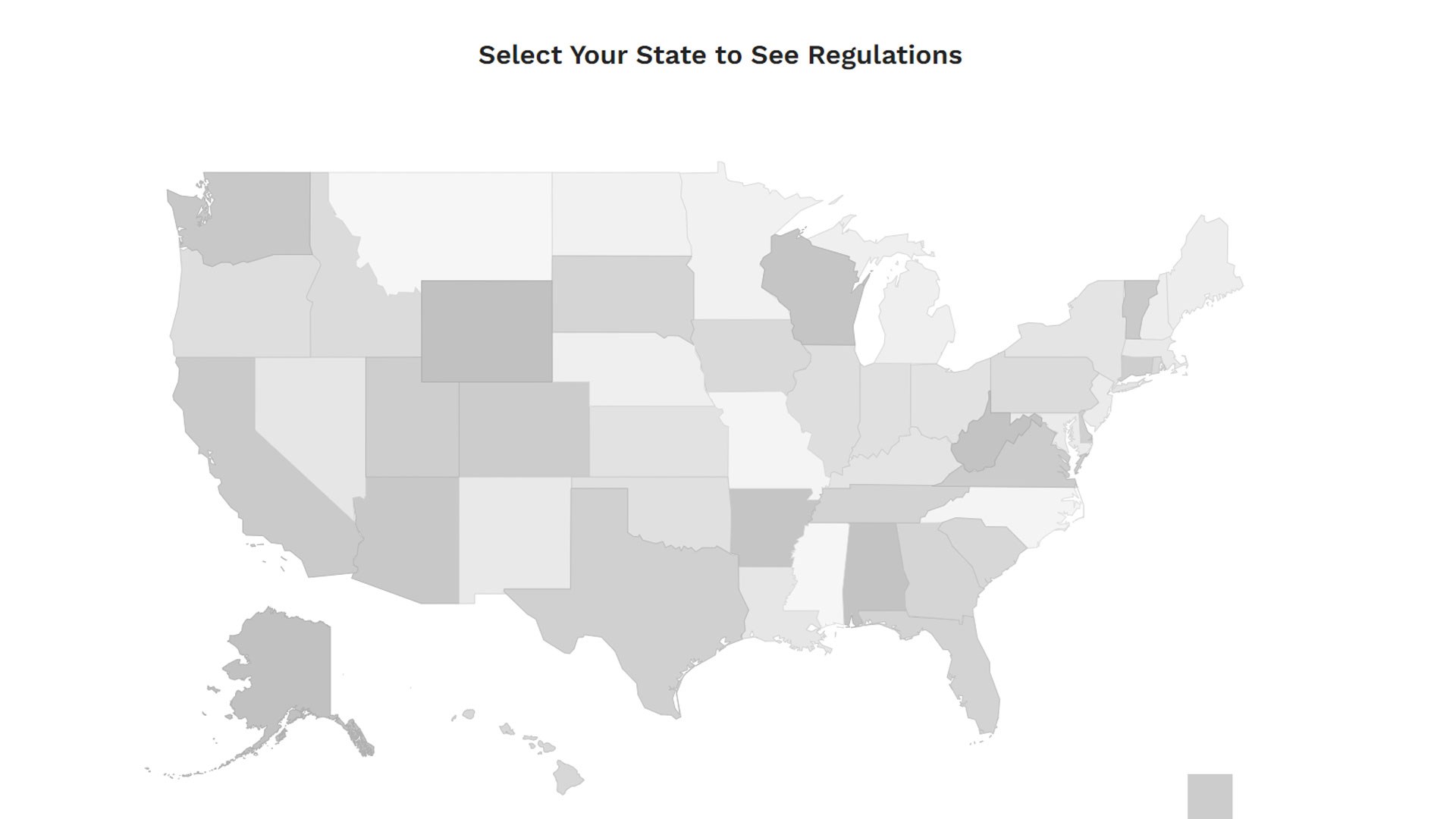 Hovering over the "Learn" tab on the company's homepage will reveal a e-bike regulation guide. This helpful page consist of a map with selectable states, where you can read about the regulations at play wherever you plan on using your bike. In addition to this, the page gives a broad spectrum of additional important information, including the parameters for e-bike classification, rules for National Forest, BLM land and National Parks, and more. While laws vary and anyone considering using an e-bike should thoroughly read this page, I'll give you the cliff notes: e-bikes are most commonly regulated under the same rules as traditional bicycles. If you've already been riding somewhere, you can likely now tackle it with your e-bike. Most notably for hunters, e-bikes with motors up to 750-watts can, broadly speaking, access federal lands in the same way as a traditional bicycle. As localized exceptions can exist, however, its always a good idea to double check the exact area you intend on riding before heading out.
Apex Pro Features 
The Apex Pro boasts quite a number of features designed to help the rider tackle the rigors of the backcountry. A hard-tail design, the rear of the bike lacks suspension making it easier to pedal uphill, while the front sports an adjustable KKE inverted air-fork with up to 140mm of travel, inspired by motocross designs. Tektro four-piston hydraulic disc brakes allow the rider to comfortable stop the bike, even when flying downhills under heavy load. Speaking of load, the bike can be ordered with a Rhino Grip XLR accessory rack to fit on the handlebars and hold your rifle; a cargo basket that fits onto the rear rack—rated for up to 100 pounds; and an all-terrain game trailer with an integrated suspension system, that can be attached to a hitching point on the bike's rear. All this is set in motion by a 1000-watt mid-drive motor, run through a 9-speed SRAM drivetrain.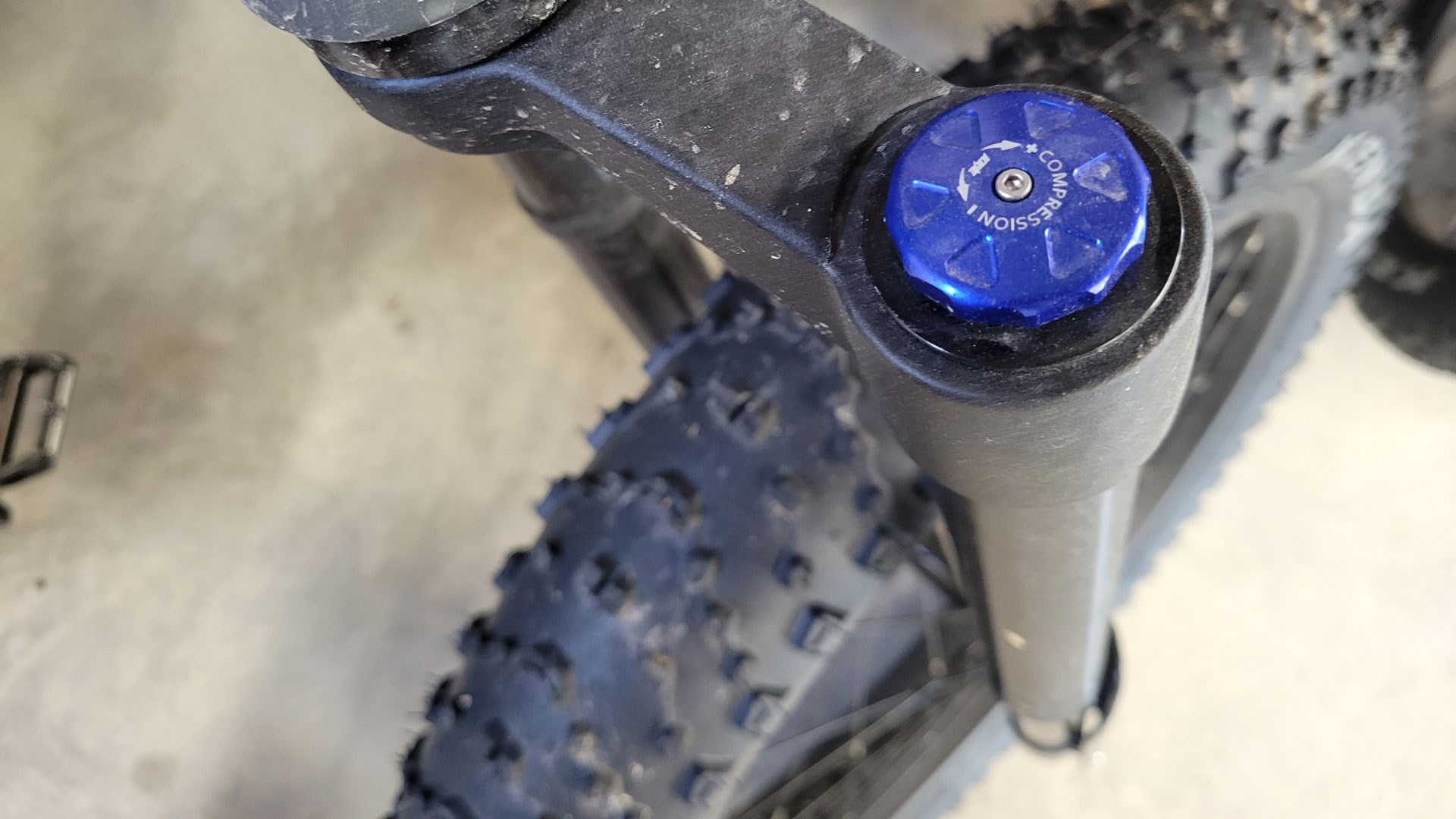 Now if something seems off here, you've got a keen eye. Public lands only allow up to 750-watts, so what gives? As it happens, on all of QuietKat's new models of Ibex, Apex Pro and Apex Spot, bikes are equipped with something called Variable Power Output (VPO) technology, which allows the rider to essentially scale the motor and its features back, in order to stay in compliance with area regulations. More on this in a future article. To round it out, the Apex Pro makes use of a 12mm through-axel capable of taking quite a beating, while 26x4.5-inch fat-tires dampen a bit of the terrain and provide firm purchase whether wet or dry. The bike also comes in three different frame sizes to best fit any stature of rider, and is available in either Angle Earth Camo or Gunmetal.
First Tracks
So, how has the QueitKat performed so far? For a start, we have mainly used the bike to haul heavy equipment and navigate our way around private property, as we get things ready during the offseason. The trailer comes in handy for everything from seed bags to blinds and decoys, though it is a little tight for tree stands. Its power is impressive, allowing the rider to burn up and down hills even with a full load in the back, without breaking much of a sweat. In fact, unloaded, the bike is actually capable of taking the rider up some incredibly steep hills under electric power alone—quite a feat for an e-bike saddled with a 180-pound rider. All in all, the bike has proved to be durable, fast and fun, with charges lasting just shy of the advertised maximum 52-mile mark, despite the heavy loads and terrain (current average is in the middle 40s). The battery also doesn't lose much (if any) charge when not in use, which speaks to the quality of the components.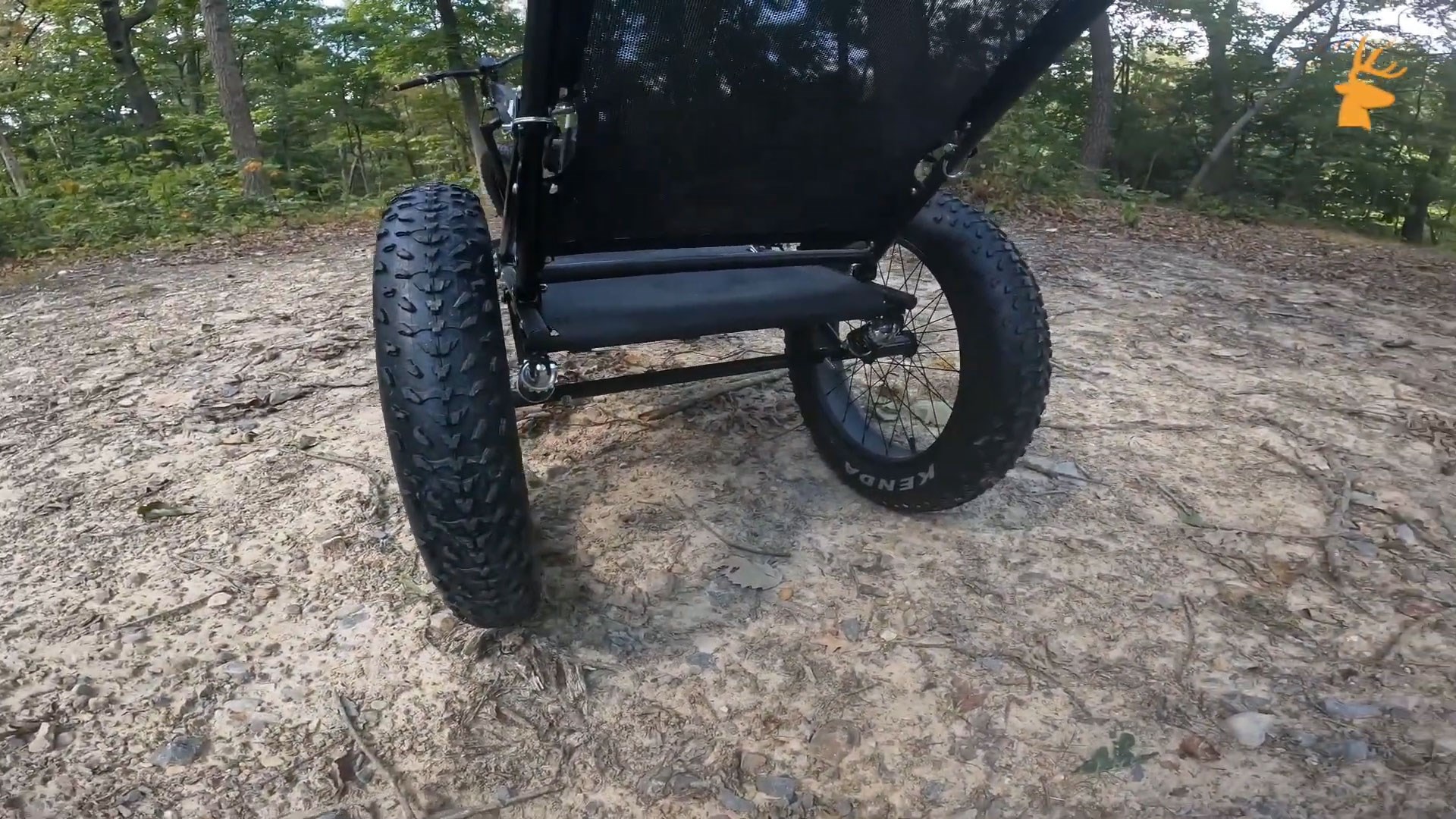 Of course, this wouldn't be an honest review if we didn't mention any issues, though the bike so far has really only had one. On the way down a hill, an unloaded trailer detached and passed me on the left-hand side. After bringing the bike to a halt, I determined the issue is in the hitching system. While the trailer boasts a full suspension system, and even a flexible spring joint between itself and the bike to further smooth the ride, it's not quite enough. The trouble comes in the hitching point itself. Held tightly between two nuts on a rear bolt, the hitch is unable to pivot with the landscape, and eventually came loose—on future models, I think a pivot or swivel in place of this bolt would be a wise upgrade. Fortunately, an adequate fix is quick and easy—replacing the standard nut with a locknut has yielded a firm, secure hold. While I did simply make the $0.99 fix myself, I must also note that QuietKat was quick to offer to send out a replacement part as soon as I mentioned the problem.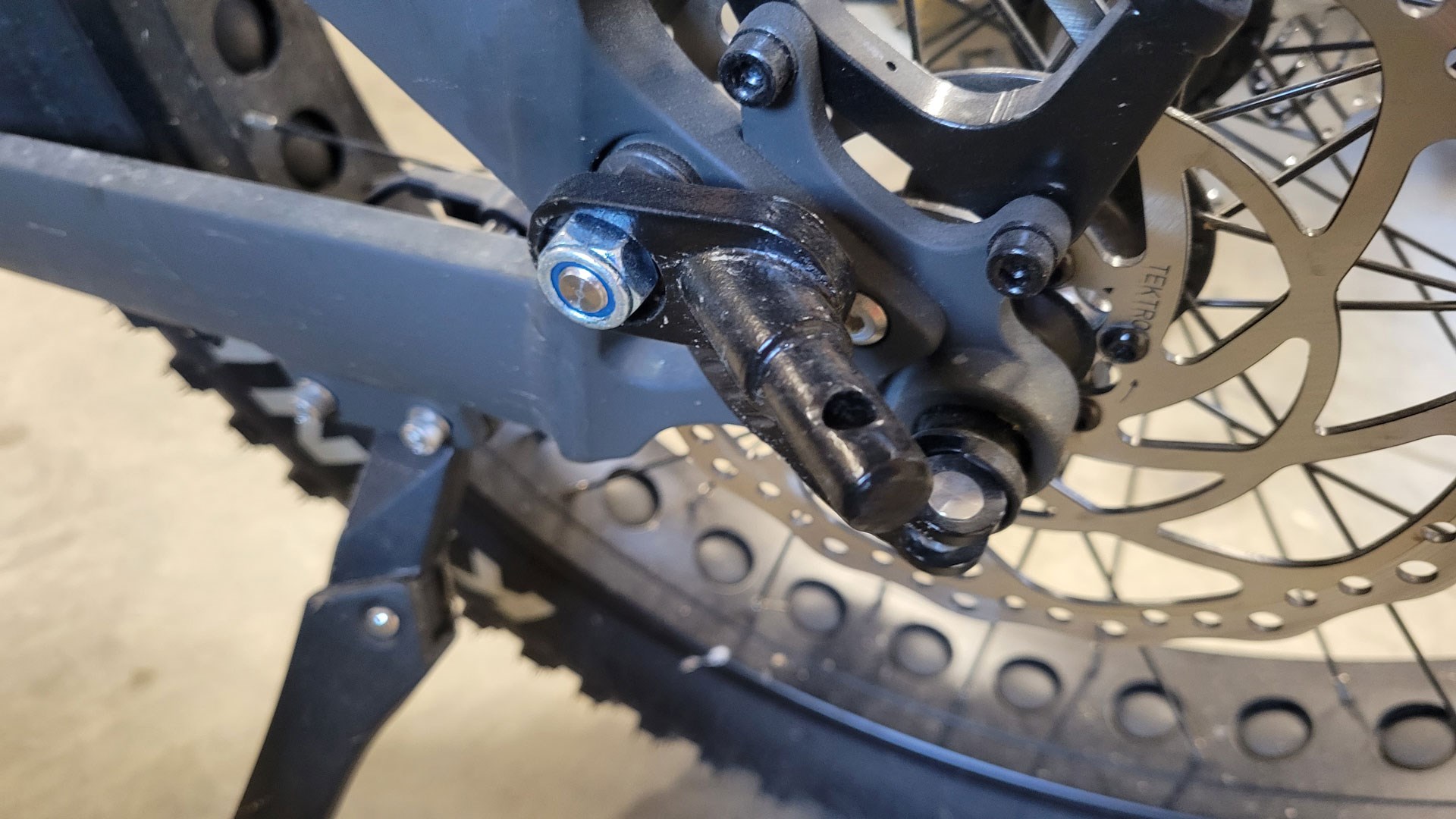 The second thing I'll note is perhaps less issue, more personal preference. When hauling things on the trailer, I've noticed that I have to well secure my load in order to not have a blind or bag rub through on one of the exposed tires. While this has led me to get far better at tying down equipment, I think fenders would be a useful upgrade for the trailer, as they would mitigate this danger. Some more knowledgeable cyclists on American Hunter's staff, however, have assured me that they far prefer the weight savings of going fender-less. To each their own, but I figured it was worth a mention.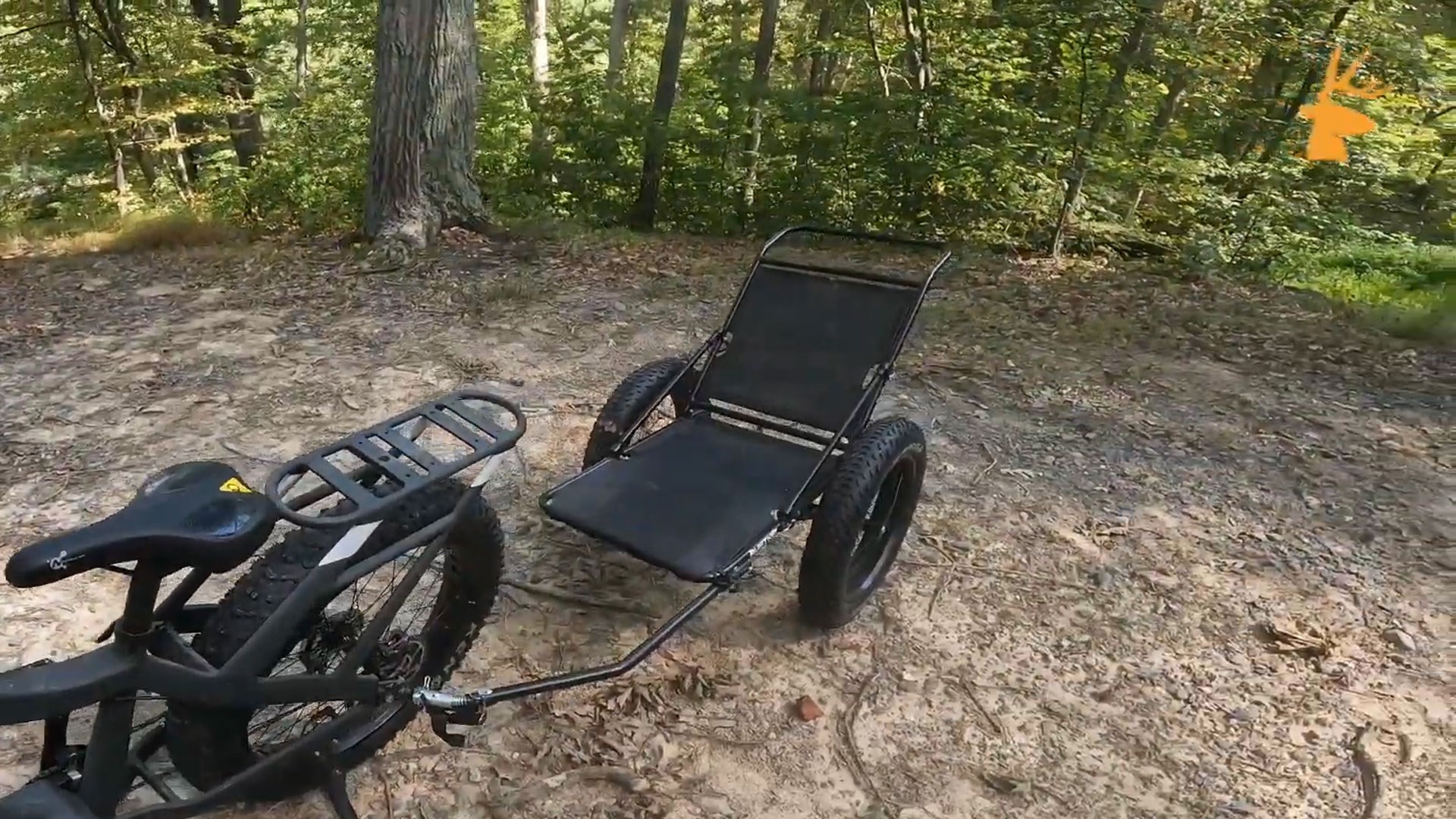 For more on the bike and to see it in action, check out the video embedded above, and stay tuned to americanhunter.org for more updates on this long-term, high-mile test.