by
posted on February 22, 2021
Support NRA American Hunter
DONATE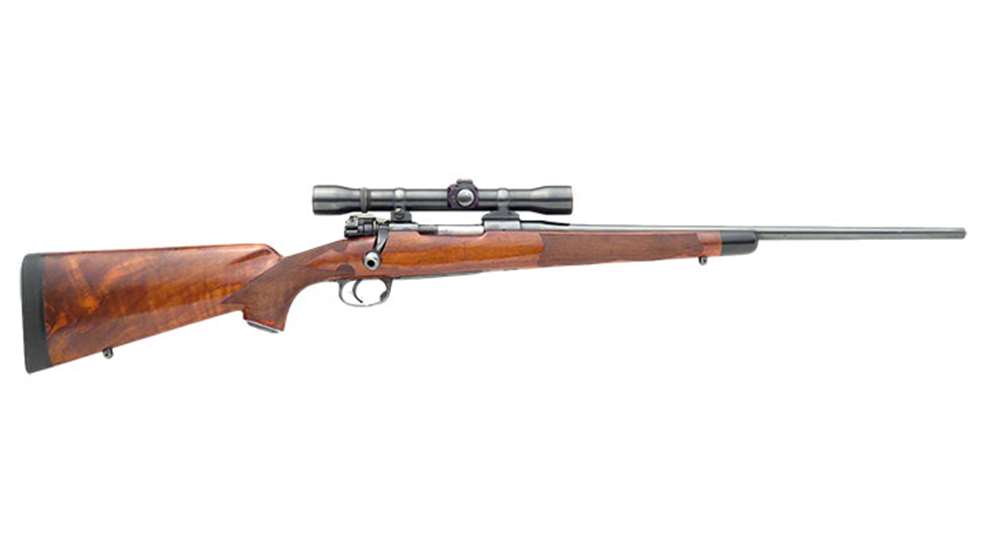 If you're tired of seeing empty shelves, visit Sportsman's Legacy to shop rifles and other firearms you can actually buy now.
As a "gun guy," I like cruising the gun counter at Cabela's and other big retailers, or popping into a local gun shop if I happen to be near it. But the truth is too often there really isn't much to see on gun counters these days. Hunters, gun owners and potential gun buyers all know this.
The heavy demand for firearms will likely continue for some time, which means the counters will likely often remain bare for a while longer. Potential buyers are left hitting a network of local haunts on a regular schedule to pounce on new arrivals or adding their name to wait lists then … waiting. Of course retailers do continue to move product, and gun shows are booming. But a potential buyer has got to move fast—an environment that may not suit all of us.
Don't forget, however, that not all supplies of firearms are dried up at this time. It may pay to admit what tickles you, what you'd buy if you had the inclination, the money and the opportunity. A mature gun owner/collector willing to spend a bit more on a gun than the average buyer because he can afford to and because it's the kind of item he seeks at this point in his life—well, that fellow can be quite happy as a potential gun buyer in the COVID world.
Sportsman's Legacy is a good example. The firm was launched in 2015 after its proprietor, Dwight Van Brunt, shifted gears into a bit of retirement mode. But the seeds of the business were planted way back in 1982 when Van Brunt began attending gun shows, antique dealers and auctions to feed his personal appetite for sporting collectibles: vintage firearms, accessories, literature and the like. Today that passion has manifested in Sportsman's Legacy, a website loaded with cool stuff for sale: classic and modern firearms, accessories, art, books and other collectibles including hard-to-find owner's manuals.
Go Shopping
I visit the site often because I'm the kind of customer Van Brunt cultivates; I like this stuff. Actually, I bet many hunters and gun owners would enjoy a visit for the same reason any of us likes to pop into a local gun shop. A good example is the photo at the top of this page.
That's one of Jack O'Connor's rigs recently placed for sale. It's a Custom Mauser 98, a re-contoured 1946 Mexican Mauser action to be precise, chambered in 7mm Mauser (7x57mm). Features include a 21-inch free-floated medium-sporter barrel, lightened "Swiss cheese" magazine box and bottom metal, and a beautifully crafted walnut stock "ahead of its time." On the floorplate appears the bust of a full-curl ram surrounded by border and scroll. Built by custom gunsmith Fred Wells and stamped with a barrel date of "2/54," it is, as written on the website, a 7.2-pound mountain rifle "crafted by the hands of a legend to be hunted with by another." The price is $15,000 to own a custom rifle owned and used by the American hunter who made sheep hunting famous.

Also for sale is a pair of Winchester Model 70s. But they just aren't any pair of rifles. They are Winchester Model 70 Serial Nos. 1 and 2. Yeah—let that sink in for a moment. Serial No. 1 is the first Winchester Model 70 ever made and stamped, in 1936. "Absent anything short of absolute certainty, each of these rifles stands among the world's most important and valuable sporting arms," reads the item description on the website. Included in the sale is a complete bound set of American Rifleman magazines from 1990 including a feature article about Serial No. 1, and a personalized letter of provenance. The pair will not be separated. The price is firm at $1.75 million.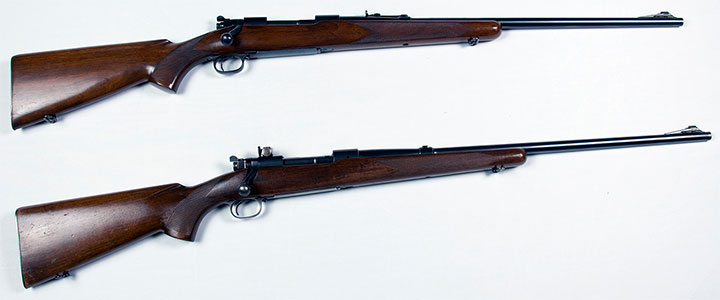 Gulp. That's too rich for my blood but boy it sure is good to read about this kind of stuff.
Here's something at least a little more obtainable for many of us: a Luxus Arms Model 11 Presentation Grade Serial No. 1. The rifle, a single-shot takedown, is chambered in .375 H&H Mag. and wears a 26-inch heavy-sporter barrel, an express blade with provisions to mount a scope, and a beautiful Turkish walnut stock. The action is adorned with full coverage vine and scroll surrounding a male leopard on the right side and a tiger on the left, the busts in gold relief. A handcrafted leather case is included. Condition is nearly 100 percent. The price is $12,500.
A pre-'64 Winchester Model 70 Featherweight .270 Win. with a custom walnut stock for $2,000 represents a more down-to-earth item. Another includes Colonel Charlie Askins' personal Griffin & Howe left-hand M721B Remington in 8mm Rem. for $4,000. Prospective pistol buyers, there is plenty here for you, too, including an Ed Brown 1911 and many Colts—1911s, Single Action Armys, Pythons, Anacondas and even a Woodsman or two. And here's something some pistol buyers would snatch up right now if they knew it existed: an early production Kimber Compact Stainless .45 ACPwith a stainless slide and frame, 4-inch bushing-less barrel, match-grade trigger and case, unfired, for $1,150 and ready to carry right now.
If you've got a lot of .308 or .30-06 ammo in stock and you love history, consider a Browning M1919A4 machine gun. Originally made at Saginaw by General Motors, the gun was fully restored and converted to semi-auto by Allied Armament. The sale includes two barrels in .308 Win. and .30-06 Sprg., a tripod and more for $8,000.
If you see something you like, don't wait too long to make up your mind. Even here, some items are snatched up fast, like an Heckler & Koch HK91 in .308 Win. with a green stock in 95 percent metal finish now pending for $3,500 (not a bad price) or a Les Baer Ultimate AR Super Varmint in .223 Rem., made in 2001 that is pending sale at $4,000. Somebody obviously realized it was quicker to buy this rifle than to call Les and add his name to a waiting list.
Always Looking For More
It took a while to get here, says Van Brunt.
As he shopped for himself beginning those many years ago, he realized desirable items were lost amid clutter. They weren't supported by good descriptions or valuations, either. "The market had very little order and sellers without strong product knowledge were at its mercy," he said. "I became determined to develop a better way to market these products, to showcase them nationally so their full value could be realized."
The result is Sportsman's Legacy, now open 24/7 and attracting discerning buyers and sellers.
To maintain inventory, Van Brunt maintains contact with a nationwide network of hunters and gun owners or their estates. It's much like many of us would do. We're hunters and gun owners; we've made friends all over the place; we stay in touch with many of them, too. Except Van Brunt always is building his network. He has become "in the know."
Some collectors, he says, know the market value of their firearms. But unfortunately many do not, including individuals representing estates. "One of my primary responsibilities," says Van Brunt, "is to determine the true value of every item." In this way he builds his reputation and his clientele.
Full disclosure: His list of customers includes me. I have sold and purchased guns through Sportman's Legacy. Sellers may sell directly to Sportsman's Legacy or sell their items on consignment. The latter includes a fee, of course, but consider the consignment price attained by Sportsman's Legacy often is higher than an individual with limited exposure to the gun-buying public is able to achieve. Contact Van Brunt if you're interested in making room in your gun safe at a time when many people could use some money in their pockets and when many people are willing to spend money on guns—maybe even yours.
Regardless whether you are a seller or buyer, if you have a taste for classic arms, Sportsman's Legacy may be a very cool regular destination, and you don't need to leave your sofa to visit the store. Heck, if you buy something from the site, you won't even need to leave your sofa until the gun arrives in your home state because you can conduct the entire transaction over the Internet.
And yes, you can absolutely buy a gun over the Internet. Sellers and buyers can and often do hook up across the wires; they simply follow the law to conduct their transactions, same as anybody else does in person in his home state. All potential buyers need to do to purchase a gun from a site like Sportsman's Legacy is find a federal firearm licensee in his home state to handle the transfer for him. In this case, you'd contact Van Brunt through his site to indicate intent to purchase a firearm, pay for it then ask your local dealer to provide Van Brunt with a copy of his or her FFL. Upon receipt of the gun, you the buyer complete state and federal forms so your local dealer may transfer it to you legally. The local dealer will charge a fee for this transfer, anywhere between $25-$60 in my experience. That's it—easy.
Tell this to the next person who insists to you it is illegal to "buy a gun over the Internet." Then go visit Sportsman's Legacy and have fun.