by
posted on January 4, 2018
Support NRA American Hunter
DONATE
It's cold out there, especially if you're high in a leafless tree. Meanwhile, your friends think you've completely lost your mind as they sit telling jokes in duck blinds while drinking coffee. But hardcore deer hunters know that when snow blankets the ground and old rutted-out bucks concentrate on food sources like pigeons to a park, the late season can be the most wonderful time of the year—that is, if you're prepared. Here's some gear that'll help you stay out longer, even as your friends and family write you off as insane.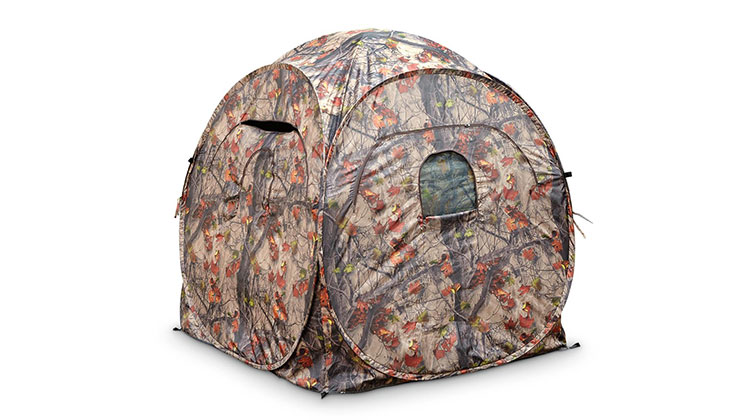 1. Guide Gear Deluxe 4 Panel Spring Steel Hunting Blind
Ground blinds are excellent tools in the late season—even more so than during earlier months—for several reasons. First, they block the wind. This means it's warmer. When it's warmer you can stay out longer. When you stay out longer you have a better chance at success. Ground blinds are good. You follow me? They also provide camouflage, since the bare trees are worthless this time of year. Unfortunately, most ground blinds are heavy, cumbersome and expensive. That's why I prefer the hoop-style ground blinds that pop up (and fold down) in seconds, and they come with a bag that can be worn like a backpack. You know those vehicle sunshields with the wire frames that instantly unfurl and nearly hit you in the face? That's how this blind works. There's an art to it, but once you get it down, you can deploy it in less than 5 seconds and fold it up and pack it away in about 10. It only weighs 13 pounds, so you can carry it until you find a fresh food source, then sit over it. Although several brands make them, I like Guide Gear's Deluxe 4 Panel Spring Steel Hunting Blind for the reasons listed above—and the fact that it doesn't cost an arm and a leg. MSRP: $49; sportsmansguide.com.
2. Browning Speed Load Saw
Browning's Speed Load Saw is a must-have for any season, not just the late one. That's because its two blades—a wood saw and a bone saw—make it extremely versatile. I keep it in my pack and use it for brushing-in my ground blind, zipping through deer sternums and cutting shooting lanes if I change locations on a whim. The Speed Load Saw is much better quality than those cheap folding saws you find at Wally World—it zips through bone and wood like the north wind through my chest hair. Its rubber handle makes the saw comfortable to grip, and it's super easy to switch blades by way of its locking button. Finally, it's got a fold-out screw stud, so it can be used as a pole saw. Just cut a sapling down, screw the saw into the end of it and presto! Now you can clean out those high shooting lands without risking your neck. MSRP: $39; browning.com.
3. Alps OutdoorZ Big Bear X Pack
Normally I don't carry a huge backpack while deer hunting. After all, if it gets that bad out there I figure I can always hike the few hundred yards back to the truck and go to McDonalds. But in the late season when it's colder than Frosty's fanny, I like to dress in layers—but I don't like to wear my heavy coat and hat while walking to my stand. There's nothing worse than getting lathered in sweat before I even begin hunting. Because I believe neither B.O. nor hypothermia is conducive to killing big deer, I'll take a backpack just to lug my heavy clothing to the stand. But last year I discovered the Alps OutdoorZ Big Bear X pack.
Frankly, it's the only pack I need for the vast majority of my hunting, because it's a backpack and a fanny pack in one. Its 31L capacity daypack portion stays rolled up and zipped away in the lid of the lower 13L fanny pack portion until I need it. Then, its included backpack straps clip on it to form a full-fledged backpack. Its 1680 denier nylon is tough as all get out, and its interior is coated, so it's darn near waterproof. Its support belt is sturdy enough that the pack can be loaded down like a mule. It comes with a bow holder, quality zippers and enough pockets to tempt you into packing things you don't need. It's not cheap, but it can be used for nearly any season—including the late one when you need extra clothes. (And snacks.) MSRP: $139; alpsoutdoorz.com.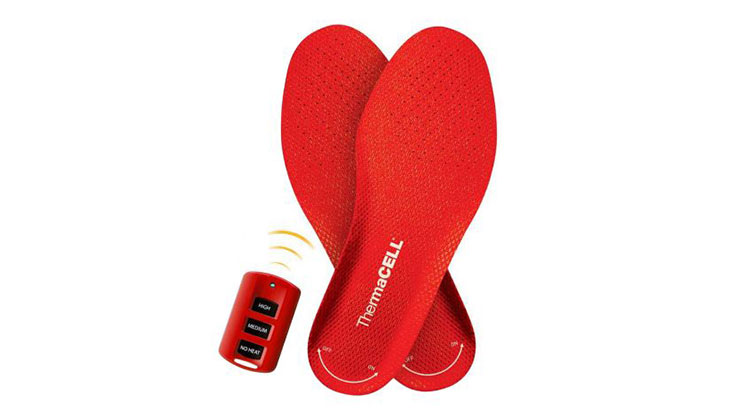 4. ThermaCELL Heated Insoles
I hate to admit it, but sometimes the reason I trudge home early and defeated is because on occasion I actually begin to believe that my frozen toes would feel better if I cut them off. Fact is, stand hunting—where muscles and blood flow can't generate heat via movement—can be awful. Many times, extra socks or boots that look like something Mickey Mouse would wear don't help either. The best solution I've found is the ThermaCELL Heated Insoles. Just charge them up, then replace your boots' insoles with these puppies. When you suspect your toes are beginning to turn black and fall off, simply tap the nuclear button on the included remote control. You won't have to amputate, and you can resume hunting deer. Just don't tell any of your hunting buddies that you have them and keep a straight face when you make fun of them as they whine about their cold feet and want to go home. MSRP: $134.99; heat.thermacell.com.
5. All Seasons Feeders Stand & Fill Broadcast Feeder
During the late season and up until the beginning of spring is when run-down deer need sustenance most. I always encourage hunters who put out food—i.e., bait such as corn—to continue the feeding through the hard times and not just during the regular season that they typically hunt (so long as it's legal where you're hunting). A big reason hunters quit feeding in the late season is that feed is expensive. But often a bigger reason is because doing so would mean trekking out every week to replenish the feeder. After all, batteries don't last long in the cold, and small, cheap feeders are easily emptied by varmints that do their best impressions of Sylvester Stallone in Cliff Hanger to steal all your corn. As I've learned the hard way, if you choose to buy a game feeder it's best to buy a quality one like those from All Seasons Feeders. You'll save time and money in the long run. The company's Stand & Fill Broadcast feeder is constructed from quality materials and components, so it'll last longer than you. Even unruly wild hogs and corn-crazy coons can't get to its golden loot, thanks to a heavy-duty varmint guard and sturdy welds. A solar charger will keep it running almost indefinitely. Large hoppers available in 300-, 600- or 1000-pound capacities will enable you to fill it once—without a ladder—and leave it going nearly 'til turkey season. If you're into late-season hunting and don't have any issues hunting over a feeder where legal, fill that baby up with protein and watch the bucks flock. MSRP: $559-$850; allseasonsfeeders.com.