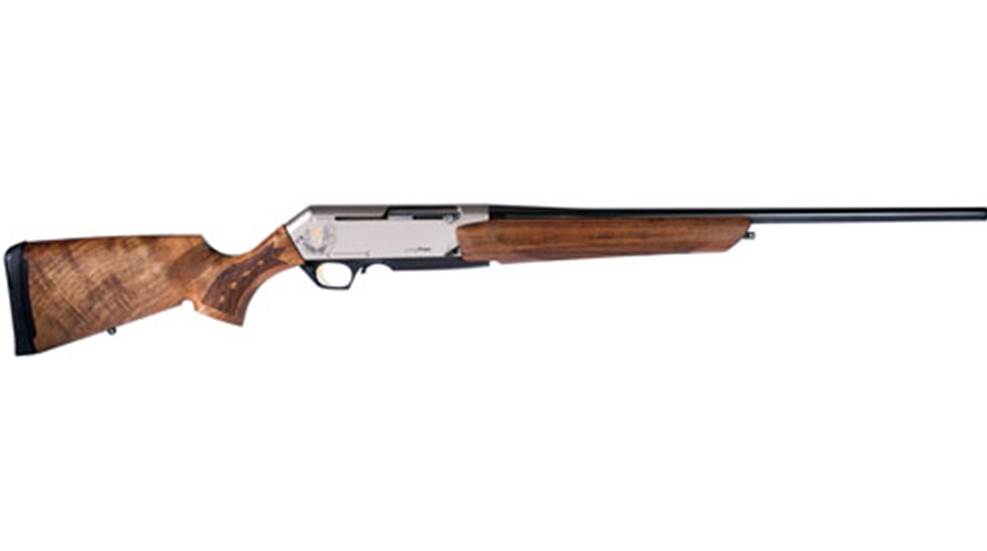 10/15/2012
If the Browning Automatic Rifle (BAR) isn't one of your favorites, it should be. This is a rifle that was delivered to us from that genius John M. Browning when America needed it most. The BAR M1918 weighed 19 pounds and fired 300, .30-06 Springfield rounds per minute at the dudes lying in the trenches opposite the Allies during World War I. It tended to keep their heads lower than prairie dogs in a hailstorm. The BAR later served in World War II under the A2 designation and fired 550 rounds per minute if needed. It was like a hammer: It was heavy and ugly as sin but could be counted on to administer beatings. These gas-operated, selective-fire guns that fired from an open bolt and used in wars as recently as Vietnam certainly differ from the sporterized versions with parts made in Belgium then assembled in Portugal for hunters in the early '70s. The Type 1 was made before 1976; Type 2s were made between '76 and '92; Mark II versions were first made in 1993. Though the sporting versions of the BAR continue to evolve, the concept remains the same: It's an accurate, semi-automatic rifle chambered in nearly all popular hunting calibers.
A couple years ago Browning updated its BAR line with the modern-looking ShortTrac—refering to its shorter receiver chambered for short-action cartridges—and then the LongTrac capable of handling the .270 Win, .30-06, 7mm Rem. Mag. and .300 Win. Mag. In addition to a modern flare somewhat comparable to Browning's X-bolt rifles, new BARs are available with a rubberized stock finish called Dura Touch. Another rendition is the "Oil Finish" model, shown here. It's a cosmetically fancier version of the ShortTrac and LongTrac BAR.
The BAR Oil Finish is literally named for its decorative, Grade II walnut stock finished with oil rather than the shiny polyurethane common on wood rifle stocks. Its checkering is not the best execution I've ever seen, but it's functional. More functional is the recoil pad that has a harder, slicker plastic overlay on the toe to keep it from hanging up on a hunting coat when shouldering. The buttstock features a very angled and boxy pistol grip. The rifle comes with a shim kit that allows adjustable stock drop.
The LongTrac's receiver is machined from aluminum and finished in satin-nickel. It had to be about 9 inches in overall length to house full-size cartridges and the bolt. It's engraved moderately on both sides with fleur de lis and Browning logos. It's attached to a 22-inch, blued barrel that has a recessed crown.
The bolt is a six-lug, rotating-head design that houses a plunger ejector and a hook-style extractor on its face. During my testing I had only one malfunction, a failure to extract. The bolt is actuated by two action arms initiated by the gas piston hidden beneath the fore-end. The BAR's gas action works similarly to a semi-auto shotgun: It forces gasses from the fired round into small ports in the barrel. The gas forces a surprisingly small piston downward, which rams the action arms down, rotating and unlocking the bolt. At that point recoil from the shell kicks the bolt back fully as the spent case is extracted and ejected. The bolt then slams forward thanks to the recoil return spring located under the barrel, and plucks a fresh round off the magazine before slamming into battery. This is standard BAR stuff, but it always amazes me that it continues to work so well. An oversized bolt release lever dominates the lower right side of the receiver. I really like its size and placement because it allows the shooter to close the action with the fingers of the fore-end hand even when the rifle is shouldered.
One of the unique features of the modern BAR is its magazine. A button just ahead of the trigger guard causes the three-round magazine to swing out on its forward hinge. From there additional rounds can be loaded while it's attached to the rifle, or the magazine box can be removed from its floorplate-like carrier with a firm pull. This system is handy for hunters because the rifle can go from fully unloaded to fully loaded in seconds; or, if you're afraid of losing the detachable magazine, leave it attached. It's well designed despite the fact that the floorplate itself—indeed the entire trigger assembly save for the gold-colored trigger—is made of polymer.
The trigger feels like a typical semi-auto shotgun trigger—it exhibits some creep and graininess—except it's lighter. My test unit averaged 3 pounds, 13 ounces. It was not a crisp, 3-pound pull as on many bolt-actions these days, but due to its light pull it's very manageable. The safety is a typical crossbolt style located behind the trigger. I wish more rifles went to this simple, quick, quiet and familiar style.
Despite only one malfunction during testing in which I did not clean the rifle, semi-auto rifles generally require religious cleaning. A tremendous amount of gasses produce grime that, if not forced down the piston system, are bled off under the stock into its mechanical workings. BARs get dirty quickly. To disassemble for cleaning, lock the action open and use a small screwdriver to turn the sling stud to remove the fore-end (an ingenious double use for a sling stud located out of the way on the end of the stock). Clean all moving parts with a toothbrush and oily rag. Clean the bolt lugs via the magazine well and chamber port. You shouldn't have to disassemble much further. If you do, find the manual and some time.
In the field, the BAR handles well and shoots good. I'm bewildered by hunters who don't like semi-autos; certainly, semi-autos don't have the tack-driving reputations of bolt guns, but if you're looking to hit a deer this side of 300 yards, the BAR, with its 1.5- to 2-inch accuracy average, is just fine. Of course, you should make your first shot count, but in reality hunters sometimes need a second, quick shot or even a third. With an auto you never must lose your sight picture. What's more, with chamberings in .30-06 and more powerful rounds available, I doubt a better rifle has ever been turned for pack-running wild pigs. Plus, with its recoil mitigation inherent in gas operation, and its quality recoil pad, the BAR is about the most recoil-friendly, hunting-weight rifle you'll ever shoot. For these reasons I'm a fan of the venerable BAR and its iterations. The Oil Finish model is just another great, functional rifle from a long line of hunting guns and World War winners. If you don't like that, try a hammer.
Technical Specifications:
Type: semi-automatic centerfire rifle
Caliber: .270 Win., .30-06, 7mm Rem. Mag., 300 Win. Mag.
Barrel: length; rifling type; twist rate
Trigger: single-stage; 3 lb., 14-oz. pull wgt.
Magazine: detachable box, 3-rnd. capacity
Sights: none
Safety: crossbolt behind trigger guard
Overall Length: 42"
Weight: 6 lbs., 15 ozs. (non-magnum cals.); 7 lbs., 8 ozs. (magnum cals.)
Metal Finish: blued
MSRP: $1,229 (.270 Win., .30-06); $1,319 (7mm Rem. Mag., .300 Win. Mag.)