by
posted on August 19, 2016
Support NRA American Hunter
DONATE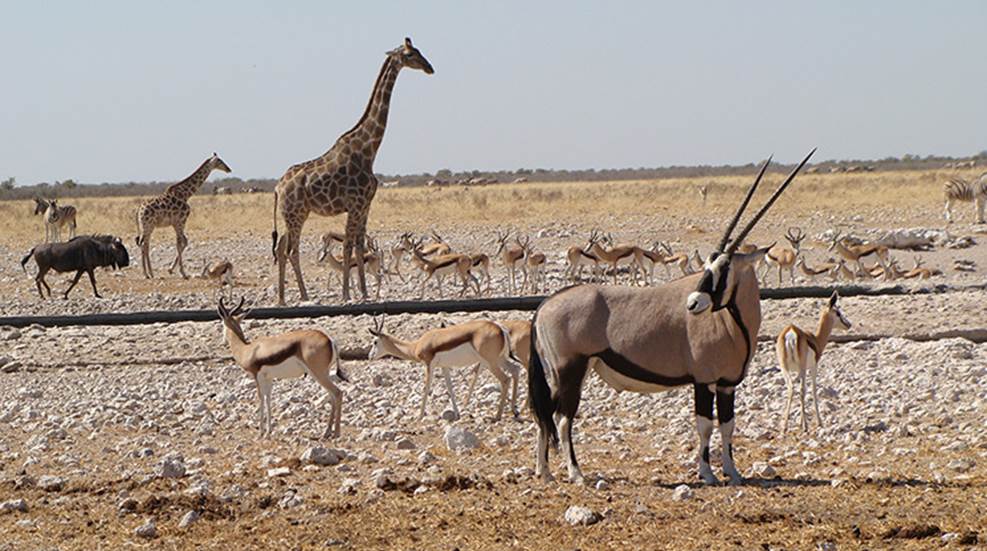 When I stepped off the plane in Windhoek, Namibia for the first time—still somewhat addled from my around-the-world trip—I couldn't help but think that I'd be disappointed by Africa. After all, I'd read every book and article I could find about hunting there, and I didn't see how the place could possibly live up to my unreasonably high expectations. But I was wrong. In fact, Africa exceeded my expectations in almost every way, from the friendliness of the people to the quality of the game to the breathtaking scenery that can't be aptly described in words.
Today African hunting is under attack, largely thanks to a misinformed media and radical animal rights groups that inaccurately portrays hunting in general and African hunting in particular as the driving force behind the decline of wildlife numbers the world over. Nothing could be farther from the truth, and the statistics are clear on this point. Hopefully African hunting will continue for generations—African wildlife and African people need this to be so. If you're a passionate hunter who's always dreamed of great adventure in the world's wildest and most remote wilderness areas then there's no time like the present to start planning that African safari. Here are five reasons why you need to book an African plains game hunt now.
1. You're Saving African Wildlife
Despite what anti-hunters claim there is solid evidence to say that not only is hunting important to African wildlife but that it is imperative for the future of African game. Africa's incredible collection of wildlife faces very real and very serious threats from the growing human population and the need for land for agriculture and livestock, from large-scale commercial poaching, from desertification as a result of poor agriculture practices and ever-expanding mining operations. Hunting provides rural Africans with a means of financial support and gives them a reason to preserve wild game populations. Following the bloody civil war Mozambique in the 1990's there were roughly 1,200 cape buffalo in Coutada (hunting area) 11, but thanks to hunting and hunter dollars there are more than 20,000 buffalo there today, along with waterbuck, sable, nyala, and a variety of other game. Communal conservancies like Etosha and Nyae Nyae in Namibia and the Save and Bubye Valley Conservancies in Zimbabwe provide funds for schools, fresh water, and health clinics in rural areas and encourage the reintroduction and preservation of native species. Hunter dollars fund these initiatives.
2. It's Very Affordable
Comparatively speaking a Namibian or South African safari is quite affordable. Consider that with an average daily rate of $300 to $450 a day and trophy fees ranging from $250 to $1,500 you can book a ten-day plains game safari and take a half-dozen animals for less than the price of an Alaskan moose hunt. In addition, accommodations in most African lodges are outstanding, and you'll find these camps far more comfortable than the conditions in remote wilderness areas in the States. If you're looking to get the most for your money consider looking at "package" hunts where you'll be able to take four, five, or six species on a short (roughly week-long) hunt at a reduced rate. You can also sign up for cancellation hunts which are far less expensive because the outfitter or PH is simply looking to fill the spot and some money has already been paid on the hunt. Airfare and incidentals can be expensive, and you'll need to tip your PH, but those are costs associated with any hunt anywhere in the world. Shipping trophies home and taxidermy costs can be high, but if you limit the number of animals you harvest and are modest with your mounts you don't have to spend a fortune. If you don't want to bring anything home and are more concerned with hunting meat for your camp while you are there consider a cull hunt, which is an affordable way to experience Africa. And, of course, no meat is wasted.
3. It's Generally Safe
Africa gets treated unfairly by many media outlets that choose to cover strife and unrest in certain corners of the continent while ignoring more peaceful and prosperous regions, but don't let that stop you from booking a hunt. You wouldn't cancel plans to travel to Kansas because you're afraid of the murder rate in Chicago, would you? In a place as vast as Africa there are bound to be dangerous areas, and indeed there are portions of the continent where I would never travel, but it's foolish to assume that the entire continent is unsafe. You can find trouble anywhere (that goes for this country, too) but if you hire a reputable PH and follow his lead there's a good chance that you'll be just fine. Namibia is a standout in terms of security and stability in Africa, and the plains game hunting is exceptional there. I've taken friends and family there in the past and when my children are old enough to tag along they're welcome, too, as I have less reservation taking them on a guided hunt in Namibia than to some large metropolitan areas in the United States. Odds are you'll be surprised by how accommodating, friendly and welcoming the African people really are. I know I was.
4. There's No Need to Buy A Bunch Of New Gear
Sure, a floppy hat, a vest with shell loops and a big bore rifle will make you look like a real African hunter, but you don't need any of those trappings for most safaris. During our summer (winter in the southern hemisphere) Africa can be quite chilly, especially in the desert regions of Botswana, Namibia and South Africa so ditch the Clark Gable hat and pack warm. A jacket, a good pair of worn boots, some mid-weight clothing, a backpack and a pair of binoculars will suffice for most African hunts. You don't need a .375 H&H rifle, either. Your deer rifle in .270, .30-06, or 7mm Remington Magnum will work for most any plains game hunt. Additionally, your PH will be glad to see you bring that rifle; a shooter that carries a familiar gun chambered in a caliber they can handle is far more likely to put those bullets where they belong—and far less likely to make a bad shot that results in long hours of tracking and lost hunting days.
5. Some of the World's Greatest Game Fields Are There
Spared by the worst effects of the last ice age, Africa has a level of mammalian diversity found in few other parts of the planet. Indeed, there is an enormous variety of game there. Whereas many areas in North America have only a half-dozen or so big game species it isn't uncommon in Africa to be able to pursue three times that many animals in a single area. And while the unending game fields of the colonial days may be long past there are still magnificent, wild hunting destinations in Africa that remain affordable. The Kalahari in Botswana and Namibia, the Karoo in South Africa, and Kaokoland in Namibia are but a few of the fantastic areas that remain open, and in some areas you'll still see elephants passing by camp at sundown or hear hippos or even lions at night. On fenced private ranches the game remains wild as many of these properties are 10,000, 20,000 or even more acres and contain no internal fences.