by
posted on January 19, 2015
Support NRA American Hunter
DONATE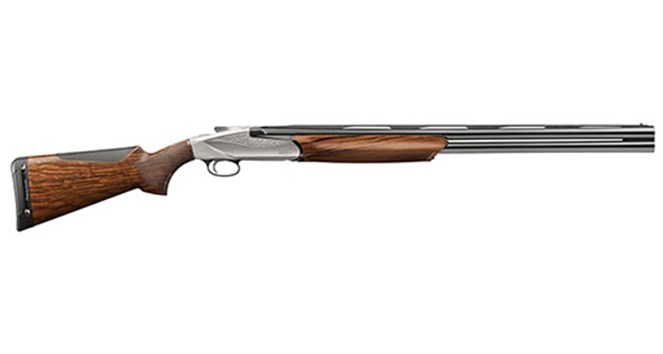 At SHOT Show 2014, Benelli made waves with the public introduction of its Ethos semi-auto, which quickly became one of the well-regarded new releases of the year—which is why we awarded it a Golden Bullseye Award last week. What could the company possibly do to follow that up in 2015? Well, throw us a heck of a curveball, for one, by introducing its first-ever over/under: the Benelli 828U. Here are five things you need to know.

1. It Blends Eras
When you see an over/under with a walnut stock, you're not often thinking of a "modern" shotgun—but that's still what Benelli delivered. The 828U is as contemporary and practical as you're going to find within its market.It feature  an auto-safety, easy-operating opening lever and steel lock-plate opening system, paired with impulse-driven ejection. Floating crio barrels and crio chokes, weight-reducing carbon fiber rib and a high-grade alloy receiver compliment the walnut stock and forearm. Durable steel-on-steel hinges, removable guard and easy-to-remove trigger system make for easy cleanup.
2. Benelli Isn't Abandoning What it Does Best
Yes, at first blush the idea of a Benelli over/under may seem strange. But the company has dedicated itself to producing an over/under that will garner just as much attention as its semi-automatics—and the 828U shares more in common with its cousins than a brand stamp. The patented, recoil-reducing Progressive Comfort System that's plenty familiar to Benelli owners has been integrated into the new over/under. which should help keep muzzle flip to a minimum.
3. They Aren't Messing Around, Either
Benelli is very aware that it's pushing the envelop with an over/under, and views the 828U as an impressive first step into that market. "We've always created markets at Benelli—but we do so by knowing the market and building the shotgun that customers want to own and shoot," said Tom Debolt, Benelli USA General Manager.
4. This is a Gun for Hunters
Benelli claims that, from the first prototype to the final design, the 828U has been crafted as a hunter's shotgun. The weight and comfort will be familiar for field and sport shooters alike, but Benelli is thinking hunters first with the new release. The "U" stands for upland, by the way.
5. Two Versions Are Available
The 828U will be available in either a nickel-engraved ($2,999) or black anodized ($2,499) model. Each variant will sport interchangeable 26" or 28" barrels, and weigh in right around 6.5lbs.