by
posted on January 4, 2010
Support NRA American Hunter
DONATE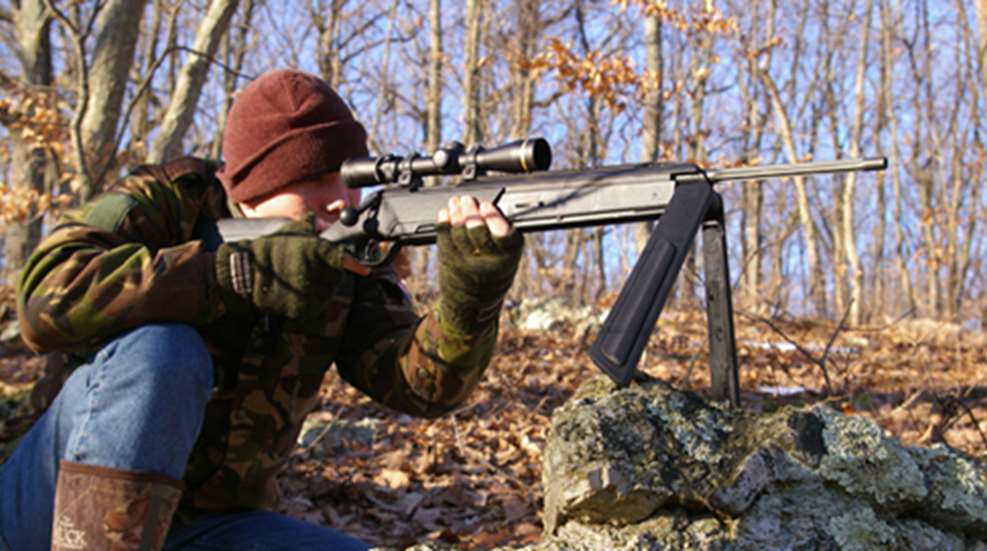 The evolutionary Scout rifle from Steyr Mannlicher originated as a "general purpose" firearm embodying principles conceived by shooting guru Jeff Cooper. Envisioning the potential for troubled times ahead, the late Col. Cooper conceived a compact, durable bolt-action that could crossover between tactical and hunting objectives, and he worked with Steyr to design one that optimized rapid target acquisition with sufficient accuracy to engage enemy combatants or big-game animals out to 300-400 meters. In short, it was to be the apex survivalist rifle. Released to the public in 1998, the Steyr Scout earned high marks from gun writers and has attracted a diehard following.
But because the popular AR platform simultaneously evolved to serve the same dual purposes, it may be time to re-examine the Scout's role in contemporary firearms culture.
In fact from the beginning the manufacturer has taken a flexible approach to introducing model variations and making minor improvements, and recently renamed the rifle the Mannlicher Scout, thereby rebranding it to that renowned name in hunting carbines. Major changes have involved new chamberings-the original .308 Win. is now supplemented by .223 Rem., .243 Win., and 7mm-08-along with stock and metal treatments including faux wood-graining and a Realtree camo/stainless version.
Wisely, the basic package remains true to Col. Cooper's brainchild that combined numerous practical innovations in a truly capable and unique shooting tool.
The receiver is a lightweight aluminum alloy that serves essentially as a framework in which the bolt locks directly into a steel barrel extension. The bolt head wields two pairs of opposing locking lugs, a recessed face and a Sako-type extractor, and it mates into the extension which is reinforced by a series of machined cones, rings and a locking nut. At 19 inches, the trim-contour, fluted barrel contributes further weight reduction, thus compensating for a receiver that extends about 15.5 inches and bears an integral Weaver rail.
The action is built on Steyr's SBS (Safe Bolt System) that can also be found in the Austrian firm's Pro Hunter big-game rifles. Dating to 1996, this system utilizes a three-position, roller-style tang safety that gives the shooter options in locking the firing pin, sear and even the bolt handle itself. Rotated all the way forward to the "fire" mode exposes a red dot and so long as the gun remained cocked (unfired) the bolt is locked. In the middle "loading" position, signified by a white dot, the trigger is blocked but the bolt can be manipulated. When turned to its rearmost setting, the trigger and bolt are both inoperable and a gray, spring-loaded safety latch prevents accidental movement of the safety. In this stage the bolt handle can be dropped another 20 degrees, thus locking it and blocking the firing pin. To unlock the system, the gray latch must be depressed before the roller or other fire-control parts can move. The SBS requires familiarization, certainly, but is simple and intuitive in field use.
The Scout's composite stock shows a definite military influence with lines suggesting an updated M-1 carbine and it comes loaded with clever integral features. Side panels on the fore-end pivot downward to become a fast-deploying, 10-1/4-inch bipod. When tucked away, however, they're barely noticeable. To back up the supplied 5-round detachable box magazine, a second magazine is supplied and can be secured in the underbelly of the buttstock. (Ten-round magazines are available as add-on accessories.) The butt contains two removable spacers-and additional spacers can be purchased-so that users can easily adjust length of pull in .45 inch increments.
To complement his Scout rifle, Cooper advocated a sighting system that was equally fast and would promote both-eyes-open situational awareness, but one that could be effective on long-range targets. This was achieved by utilizing intermediate eye-relief scopes mounted over or ahead of the breech, which is why the rifle's top rail extends so far forward. While there are negative aspects—namely decreased light transmission and low-light reticle visibility—Scout fans insist the system can be mastered by those who work with it, and that it is superior for the strategic concerns Cooper was addressing. Furthermore, built-in backup sights are provided, both of them pop-up units. A rear peep folds into a recess at the base of the receiver, while the front blade snaps into and out of the forestock.
Although we did not have a proper forward-mounting scope available for our field-test, we found that the Scout was indeed very quick to find and settle on the target with a conventional optic set on low (2.5X) magnification. The balance was excellent and counteracted the tippiness one normally experiences with lightweight rifles. Our only criticism here was that the action proved to be rather stiff, and so one might question how well it will function in a gritty environment.